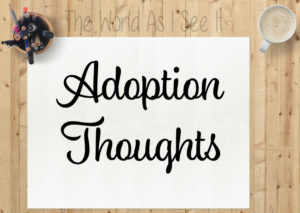 I am just writing this as a way to remember how I was feeling this year as it has been hard for me than I thought it would be.
I can't believe it has been 11 years since I gave birth and placed my daughter for adoption. It has been on my mind more this year than in years past. I am sure that is because I had to put Alley down at the end of January. Alley was my replacement baby, so when I put her to, sleep I felt like I was reliving all the emotions that I had back when I placed my daughter for adoption.
I knew this year might be hard, but I didn't expect that it would be as hard as it was. I found that this year everything lined up like it was the year I had her, so I almost felt like I was reliving it all again. There were times where all I was doing was going from minute to minute trying to get through the day.
I know that at moments like this will happen, and all I can do is deal with it one day at a time. I am also glad that I know that it will all pass, and life will get back to normal after a while. I wish I would have known that the first year because even though people tell you it will get better, it was hard for me to believe that it would get better.
I have always said that the first year was the hardest but this year would have to be the second hardest. Like I said I was grateful that I knew in time that things would get better in time which isn't something that I knew during the first year. All I want to say is that it always gets easier to deal with as time goes on.

Copyright secured by Digiprove © 2016 Margaret Margaret