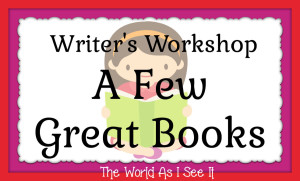 I haven't taken part in the writer's workshop for a few months and when I saw prompt number 3 which is to share a book review I knew I wanted to share a few books that I have read in the past few weeks so that if you are looking for a great summer read you have a few ideas.  It was hard for me to pick just a few of the books so if you are looking for more ideas you can click here and it will take to you all the reviews I have done.
Those are just a list of some of the books that I have read in the past few months and have loved.  I wish I had more time to read books other than ones that are sent to me to review so that I could read some of the books written by some of my favorite authors.
What book are you loving now or who is your favorite author?
Here are rest of the prompts for this week if you want to take part in it.
1. List 7 things you'd rather be doing this summer.
2. Write a blog post inspired by the word: challenge.
3. Book review!
4.  How is Summer Vacation different for your kids than it was for you growing up?
5. Take us somewhere local spot in your city and show us what we're missing…you'll be saving us thousands of dollars now that we won't need to take that trip!

Copyright secured by Digiprove © 2015 Margaret Margaret