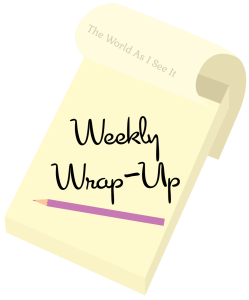 I am going to start doing a wrap up post at the end of the week because it would be nice to be able to look back at it. It is also a great way for you to see all the posts that I posted over the week and you can check them out if you missed them. I also am going to post anything that happened during the week that I want to remember or that you might find interesting.
This week I had 4 post that went live.  This weeks quote was by Marcus Tullius and it is about being humble.  If you missed it you can click right here to check it out.  Then the next two days I had book reviews that went live.  I posted reviews for If I Say No by Brandy Jellum and Remember The Lilies by Liz Tolsma and I loved both of these books.  If you love historical fiction novels than I would recommend Remember The Lilies to you and if you love suspense novels than I would say check out If I Say No.  The last post from this week was about things that made me smile this week.
There are a couple of things that I want to let you know that are coming up next week.  I have and Multiple Sclerosis update coming up because I had a new MRI & I also found out something that I want to record so that I remember when it started happening.  I also have an adoption thoughts post going up next week as well because some things happened that I want to write about and get out of my head and hope that it helps me deal with it better.
That is everything that I wanted to update you on for this week.
What did you love about this week?

Copyright secured by Digiprove © 2015 Margaret Margaret