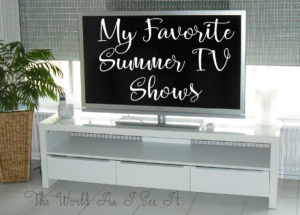 This week for the writer's workshop I wanted to share a few of the TV shows that I am currently loving.  I always have the TV on in the background when I am home, and I have found a few good shows that I have been totally enjoying this summer.  Let's get right to the shows I have been watching lately.
Those are a few of the shows that I am currently loving.  I have it on ID most of the time because I know I will enjoy any show that comes on.  What shows do you love that I should check out?
Here are all the prompts for this week's writers workshop in case you want to join in.
1. Write a blog post in exactly eight lines.
2. Show us a summer sunset!
3. What five images paint a perfect picture of summer to you?  Put those five images together in a piece of writing.
4. Write a blog post inspired by the word: sticky
5. What are you watching? Share your favorite summer programming so far.
6. Your favorite summer view so far.

Copyright secured by Digiprove © 2016 Margaret Margaret