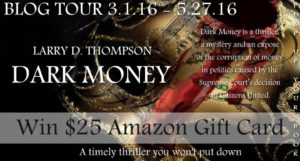 FTC: I received a free copy of this book from PUYB in exchange for my honest review. I received no other compensation and the opinions expressed in this review are one hundred percent true and my own.
Dark Money by Larry D. Thompson was an interesting book, to say the least.  This book has to do with politics which is very ironic if you ask me.  I liked the premise of the story, but I had a tough time staying interested in the book, and it got hard for me to keep reading it from time to time.  A book like this one will have a particular type of people who will love it but for me, I did find it somewhat boring and hard to get through.  There were times in the book that I was totally into what was going on, but it just wasn't the right fit for me.  This book is well written, and I could totally see something like this happening in this country.  If you love politics and corrupt politicians than I think this book would be perfect for you.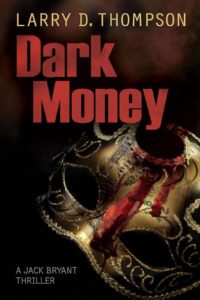 About The Book
Title: DARK MONEY
Author: Larry D. Thompson
Publisher: Story Merchant Books
Pages: 420
Genre: Legal Thriller
DARK MONEY is a thriller, a mystery and an expose' of the corruption of money in politics.
Jackson Bryant, the millionaire plaintiff lawyer who turned to pro bono work in Dead Peasants, is caught up in the collision of money and politics when he receives a call from his old army buddy, Walt Frazier. Walt needs his assistance in evaluating security for Texas Governor Rob Lardner at a Halloween costume fundraiser thrown by one of the nation's richest Republican billionaires at his mansion in Fort Worth.
Miriam Van Zandt is the best marksman among The Alamo Defenders, an anti-government militia group in West Texas. She attends the fund raiser dressed as a cat burglar—wounds the governor and murders the host's brother, another Republican billionaire. She is shot in the leg but manages to escape.
Jack is appointed special prosecutor and must call on the Texas DPS SWAT team to track Van Zandt and attack the Alamo Defenders' compound in a lonely part of West Texas. Van Zandt's father, founder of the Defenders, is killed in the attack and Miriam is left in a coma. The authorities declare victory and close the case—but Jack knows better. The person behind the Halloween massacre has yet to be caught. When Walt and the protective detail are sued by the fund raiser host and the widow of the dead man, Jack follows the dark money of political contributions from the Cayman Islands to Washington to Eastern Europe, New York and New Orleans to track the real killer and absolve his friend and the Protective Detail of responsibility for the massacre.
For More Information

About The Author
Larry D. Thompson was first a trial lawyer. He tried more than 300 cases throughout Texas, winning in excess of 95% of them. When his youngest son graduated from college, he decided to write his first novel. Since his mother was an English teacher and his brother, Thomas Thompson, had been a best-selling author, it seemed the natural thing to do.
Larry writes about what he knows best…lawyers, courtrooms and trials. The legal thriller is his genre. DARK MONEY is his fifth story and the second in the Jack Bryant series.
Larry and his wife, Vicki, call Houston home and spend their summers on a mountain top in Vail, Colorado. He has two daughters, two sons and four grandchildren.
For More Information
Enter To Win
Larry D. Thompson is giving away a $25 Amazon Gift Card!
Terms & Conditions:
• By entering the giveaway, you are confirming you are at least 18 years old.
• One winner will be chosen via Rafflecopter to receive one $25 Amazon Gift Card
• This giveaway begins March 1 and ends May 27.
• Winners will be contacted via email on May 28.
• Winners have 48 hours to reply.
Good luck everyone!
a Rafflecopter giveaway
Excerpt

Copyright secured by Digiprove © 2016 Margaret Margaret