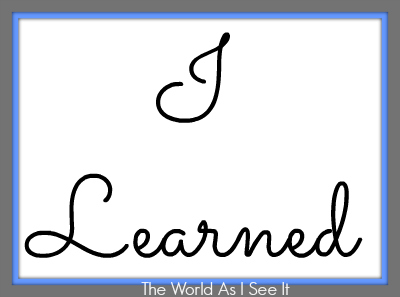 This week for the writers workshop I am going to write about  1.) Share something you learned in February.  There are quite a few things that I learned during the month of February.  The biggest thing I learned during February was that you should never take a day for granted because you never know when it will be your last day.
The company I work for had one of the ladies in our accounting department pass away suddenly and that made me realize that I need to stop taking every day for granted.  I have noticed that for the last few years I have just taken for granted that tomorrow is another day but I came to realize this month that I can't take that for granted anymore.
Another thing I learned this month is how much time sucks.  I say that because I always hear that time will heal and let me tell you that time hasn't really healed anything.  I wrote about how I am feeling this month about placing my daughter if you missed that post you can click here to check it out.  I had hoped that at almost 9 years later I still wouldn't be struggling with placing her.  I know that I will never forget but I had hoped that it would get easier with time and it hasn't gotten any better.
Those are a couple of things that I have learned during the month February.
What did you learn during February?

If you would like to join in this week here are the prompts.  Also after you write your post make sure you click here and link up your post.
1.) Share something you learned in February.
2.) Top 6 Favorite people to follow on Pinterest.
3.) Update your readers on your 2014 goals. How are things going? Are you staying on track or facing some challenges?
4.) Describe the most vivid dream you can remember.
5.) Your least favorite subject in school.

Copyright secured by Digiprove © 2014 Margaret Margaret