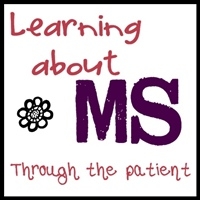 I know I am lucky that I live around so many amazing MS doctors and clinics and even if I can't find one in Salt Lake I could always go to Provo or Ogden to find a doctor.  I know that not all people are as lucky as me to live in such a great location and to have several different doctors to chose from.
Up until recently I have never really thought about how far people have to drive in order to find any Multiple Sclerosis doctor and even with driving that far they may not like the doctor but have no other choices and are forced to see them anyway.  I was contacted by a woman named Erica who was diagnosed with Multiple Sclerosis this past summer and she asked me to write a post about a charity that she is trying to get up and running to help people with money for traveling costs and things like that.
Here is some of the information that she sent me when she contacted me:
OUR MISSION:

To provide resources, both financial and tangible, to patients and families fighting multiple sclerosis.

WHAT WE WILL DO:

Through the efforts of extensive fundraising campaigns, private donations and grants, the organization seeks to provide financial support to multiple sclerosis families not typically covered by health insurance.  This includes travel expenses, personal comfort items, service animals, and other needs as they arise.  The needs will be met on a case by case basis as the need arises.  In addition, the organization seeks to provide work from home training, employment assistance, and scholarships for those affected by multiple sclerosis.  This differs from current organizations because many organizations focus efforts on the research and pharmaceutical side of multiple sclerosis and lack interest or focus on the patient quality of life.

WHY THIS, WHY NOW?

As a current MS fighter, the founder, Erica Durham, seeks to empower others like herself with the disease rather than be a victim of the disease.  These resources are near and dear to her heart and she understands the need for them.

My website is www.keepsmyelin.org , my twitter is @erica_gayle79 , and I have two t-shirt fundraising boosters going on now, https://www.booster.com/ms-gets-on-my-nerves and https://www.booster.com/keepsmyelinfoundation as well as a general give forward fund at https://www.giveforward.com/fundraiser/npfb/raising-money-for-non-profit-foundation-helping-patients-with-ms

I am hoping that I will reach an audience that is willing to help others as I am, any amount of giving helps.
Over the past few years I have stopped giving money to charities because I don't like what they do with the money and things like that so when I was contacted by Erica I thought would write about it in case you are looking for a charity to donate to this time of year.  Since this is a new startup charity I don't know what will happen in the end but I would be more likely to donate to Keep S'Myelin before I send any money to the National MS society.
I will have an MS update coming the middle of December after I meet with my doctor.  Not much has really changed though so it will be a super short update but an updated none the less.


Copyright secured by Digiprove © 2015 Margaret Margaret