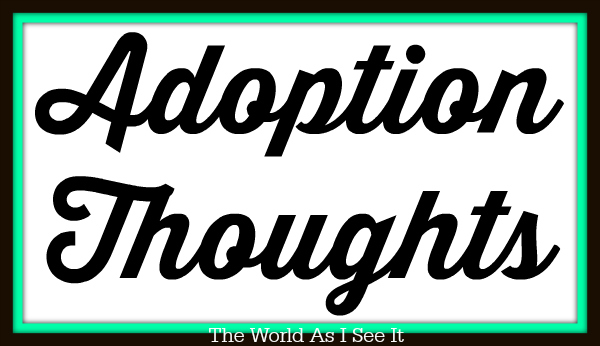 Mothers Day was a few weeks ago and because it is a hard time for me I couldn't bring myself to write this post at that time.  I still wanted to write this post in hopes that it may help a birth mom out there know that she isn't alone when it comes to hating Mothers Day.  I never have been a huge fan of holidays like Mothers Day before but now I hate Mother's Day.
Mother's Day is hard for me because I am in a weird place in regards to being a mother in the eyes of people in the world.  It is hard to know that you are a mother but to basically have everyone ignore the fact that you are.  I try and make it a nice day for my Grandma but in the end I always end up just being sad.  This is also one of days that I always wonder what it would have been like had I kept her and decided to parent.  Now that being said I don't regret my choices because I know I made the right choice for her but you can't help but wonder sometimes.
I guess I just wish that people in the world we understand that there are different types of mothers and not every mother looks the same.  Just like not all mothers become a mother the same way.  It hurts me to see other mothers talk down to birth mom's because of the choices we made for our children.  It is also hard because if you don't know a person placed their child then you have no idea.  It is just a hard place to be and it makes Mother's Day hard.  It is also seemed from time to time on Mother's Day that some people rub the fact that you placed your child for adoption in your face and think that he desire to be miserable and in pain on Mother's Day.
Those are just a few thoughts that I have been having this year about Mother's Day.  I also wanted to share this video that I found last week.  I knew I wanted to share it with everyone because it spoke to me and it was an amazing idea and it was an amazing video.  I hope it also helps people see that there are different kinds of mothers in this world.  Watch this video and let me know what you think in the comments below.

Copyright secured by Digiprove © 2014 Margaret Margaret