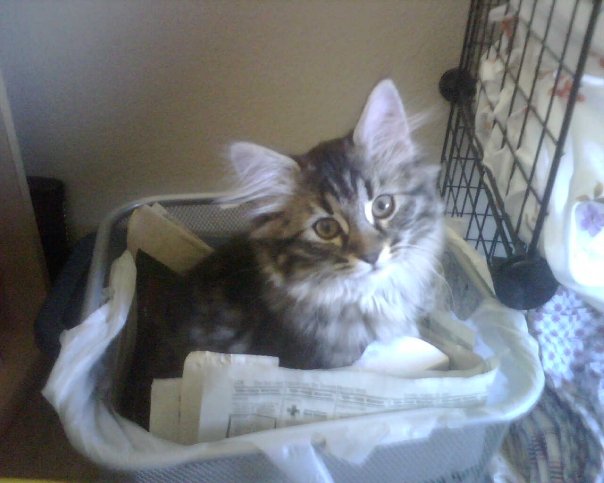 Today for the Writers Workshop I am going to introduce everyone to Sylvia.  I know I have talked about her on here before but I am going to introduce her and add a few clips of some videos that I have with her in them.
Sylvia is about 6 years old and my grandma is the one who picked out her name.  I already had Elinore when I decided I was going to adopt a kitten and I wanted them both to have "old" lady names.  She has always been a handful and has always hated to be held and picked up.  She is to this day still hates to be held.  While you are holding her she is growling and hissing.
She does have long fur so she gets mats.  Since she hates to be brushed we just brush the mats out when they are little because she will allow us to pet her when she wants to be petted.  When she decides that she wants to be petted you have to drop everything and pet her or she will hiss and run away.
She is the first cat we have ever had that is either sitting still or running full speed.  She doesn't seem to go anywhere walking well she never used to but she has had to start slowing down because we redid the flooring in part of the house and she slides everywhere if she runs.
Here a few videos of her: The second one shows what she does when she wants to be petted and I try and move her off of me.


She is also scared of pretty much everything and I believe that is because she picked up on everything that Elinore was scared of in the beginning.  Since Elinore was abused before I got her she was super scared of everything and has since started growing out of all of those things but Sylvia is still scared to death of pretty much everything.
That is pretty much all of Sylvia and some of the crazy things that she does.
What crazy things do your pets do?

Copyright secured by Digiprove © 2013 Margaret Margaret