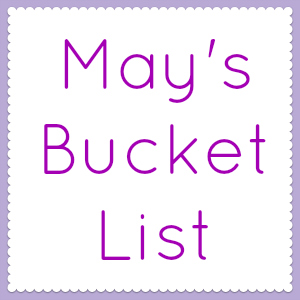 So this week there were 2 prompts for the Writers Workshop that I wanted to write about so I am going to write about one today and then the other one tomorrow.  It is about half way through the month of May and thought that it would be fun to write a May bucket list and then check back in at the end of the month and let people know what I got done during the month.
I also wanted to do this because lately I feel like I am not getting anything done anymore.  It feels like I am always starting things but that I never really get to finish any of them because I have so much going on so my I thought this would be a good way to see what I actually completed in May.
May Bucket List
Finish reading 4 books.

Post at least 5 times a week on this blog
Write reviews on books the day I finish the book
Don't wait til the last minute to read books  that I know have to review the next week or the next day even
Figure out what I am going to do with designs for this blog and also for my design site
Change the sheets on my bed every week
Don't shop online and/or buy any more app's for my phone
Start saving for a laptop
Drink more water
Don't eat fast food more than once a week
Have all my blog posts set and read to post the day before they need to be posted
Those are the only things I can think of that I would like to finish this month.  I will let you know how well I do at the end of month!
What is on your May bucket list?

Copyright secured by Digiprove © 2013 Margaret Margaret