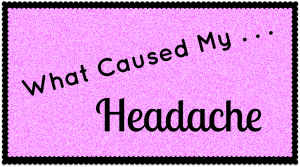 Yesterday I wanted to write about something that gave me a headache for the Writers Workshop but I already had a book review that had to be posted that day so I figured I would post this today.  I wanted to write about this because I have had a headache for a month now in fact we are coming up on 2 months with the same headache.  I can't blame this headache on just one thing so I am going to make a list of things that I think are causing it.
The weather has been super crazy lately and it is always changing.

The fact that since it has been warmer some days my cats have started to shed and I am allergic to them. (This one is my own fault and I know it but they are my kids so I won't get rid of them)
We are putting in new flooring in the living room, dining room & hallway.  My girls usually sleep on the couch and chair in the living room but since it has been torn up they have been sleeping on my bed almost all night so that is putting tons more cat hair and what not in my room.
My Multiple Sclerosis medication can cause sinus infections and I am prone to have them as well.  I am pretty sure I have a sinus infection but I know that going to a doctor for it isn't going to do anything so I just take decongestants and wait it out.
Stress from work has also be huge problem lately as well.
I also have been eating too much gluten and I am paying for it big time.  I will do really well some days and then other days and weeks all I want to eat is things that have gluten in them.  I am being kind of stubborn and still eating things I know that will make my head hurt but I am tired of not having what I enjoy.
The final thing that has been giving me a headache  is all of the reading that I have had to be doing because of all the book reviews that I have coming up in the next two months or so.
Those are the things that are causing this almost 2 month-long headache.  I know there are probably tons of other things that aren't helping as well.
What gives you a headache?

Copyright secured by Digiprove © 2013 Margaret Margaret