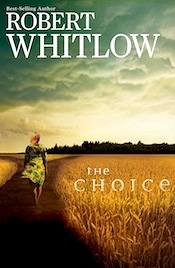 One young woman. Two very different roads. The choice will change everything.
Even as a pregnant, unwed teen in 1974, Sandy Lincoln wanted to do the right thing. But when an ageless woman approached her in a convenience store with a mysterious prophecy and a warning, doing the right thing became even more unclear. She made the best choice she could . . . and has lived with the consequences.
More than thirty years later, a pregnant teen has come into her life, and Sandy's long-ago decision has come back to haunt her. The stakes rise quickly, leaving Sandy with split seconds to choose once more. But will her choice decision bring life . . . or death?
My Review
I really enjoyed this book.  When Sandy was going through her pregnancy I totally related to how she felt and how hard what she was going to be going through.  I also know how she felt when she didn't want to see her babies after they were born because I too felt like that when I had my daughter.  I decided to see here when I was alone in the middle of the night which is what worked out best for me.
Anyway there are parts in this book that I didn't like or don't understand like how she could separate the boys but I saw her logic I just didn't like the choice.  The author did a great job of getting all the emotions right when I came to Sandy placing the babies and the emotions leading up to that point.
I think that this is a good book and people who know about adoption would like it.  I am sure there are parts that some people in the adoption community wouldn't like but all in all it is a good book and one that I am glad that I read.
FTC: I received a free copy of "The Choice" by Robert Whitlow in exchange for my review.  The opinions expressed in this review are 100% my own.

Copyright secured by Digiprove © 2012 Margaret Margaret