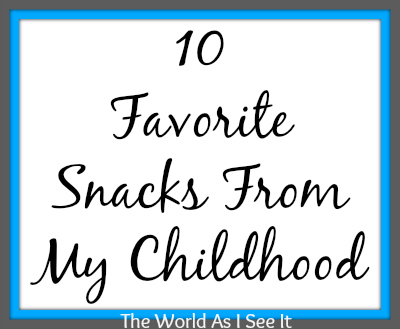 This was a prompt from the writers workshop a few weeks ago and I still wanted to publish the post.  So the prompt for this post is: make a list of your 10 favorite snacks growing up.  As I am thinking about snacks I loved as a child are mostly candy.  I have found pictures of the things I am talking about so you can see them if you have never heard of them before.
Haribo Gummi Frogs-I loved these are through high school and they are still something that I love to this day.
Haribo Gold-Bears-To me these are just classic candy and something that I love to eat to this day.
Ring Pops
Trolli Brite Crawlers
Pop Rocks
Blow Pops
Laughy Taffy-the watermelon kind with the seeds
Peachie O's
Ruffles Cheddar & Sour Cream Chips
GooGoo Cluster Ice Cream
I just listed junk food snacks because that is what I think of when I think of snacks but I did grow up loving almost all veggies & fruits so I ate tons of them as well.
What snacks did you love as a child?

Copyright secured by Digiprove © 2014 Margaret Margaret