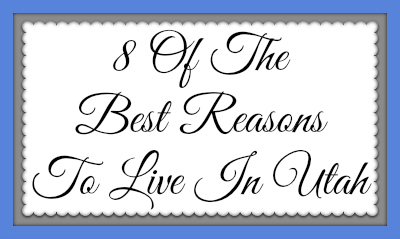 This was a prompt from the writers workshop a few weeks ago and I wanted to write about it because I always complain about living in Utah but there are some great things about living here as well.  I am going to list a few of the reasons that I love living in here and why.
I love that we have all four seasons.  I know I always complain about how hot summers are and how cold it is in the winter but it is so nice to have all 4 seasons and not just one or 2 of them.
It is super pretty here almost all year around because of the changing seasons.
I love the mountains and I can't imagine living in the midwest where it is basically flat.
I love all the different things you can see and do in Utah.
For the most part I love the majority of the people who live here.  There are some people who I can't stand but for the most part people aren't to bad here.
I love that I am not looked at funny when people find out I chose not to drink alcohol.  I did drink at one time but now I really don't see the point in it.
I love going to Temple Square at Christmas time and looking at all the lights they put up.
The last thing reason I love living here is  I am comfortable being here since I was born & raised here.  I know that is a silly reason but for me that is a huge thing because I hate change.
Those are 8 reasons I love living in Utah.  Why do you love the state you live in?

Copyright secured by Digiprove © 2013 Margaret Margaret