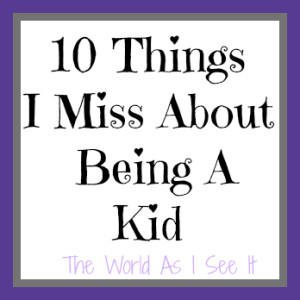 This week for the writers workshop I am going to write about number 5 which is 10 things I miss about being a kid.  This is pretty easy for me since I always find myself telling kids to enjoy being young because being an adult sucks!  So here are the 10 things I miss about being a kid.
I miss not having to do anything but go to school during the week.
I miss the fact that now I have to worry about money and paying bills.
I miss that I really didn't have a care in the world and I could pretty much do whatever.
I miss how things were back then.  I hate how in todays society you have so many more worries and concerns than there used to be.  I guess the best way to describe what I am trying to say is by saying how bully's are today and how you can't even escape them when you are at home like you could when I was a kid.
I miss the fact that I wasn't sick like I am now and that I could do more things than I am able to now.
I miss the fact that I could sleep.  It is crazy to me how as a kid I hated going to bed but now that I basically can't go to bed and sleep without taking something I miss being able to lay down and just sleep without taking anything.
I miss not having any major responsibilities such as going to work or paying doctors bills.
I hate that I know have to keep track of doctors appointments and any other appointments that come up.
I hate that I can't just ask my parents for money anymore when I run out of money during the month.
I miss how I used to feel safe when I was younger and I never had a care in the world.  Now you hear all the time about kidnappings and things like that which makes me not want to raise kids in todays society.
Those are the first 10 things that came to my mind but I am sure after I post this I will think of a tons more things that I miss.  That being said what do you miss about being a kid?


Copyright secured by Digiprove © 2013 Margaret Margaret