People only seem to notice the clothes I wear. I am not sure if that is a good thing or not to be honest with everyone. Some people when I was younger said they loved my hair because it was so thick and nice. I have always hated my hair though. Thick hair is a pain in the butt to take care of and it is super hot in the summer time but people seemed to like it!
It is Friday the 13th and that totally sucks! I hope I make it all day with out anything major going wrong. I have my infusion so lets pray that I get through that without and problems. I always seem to have problems when I have to go alone. Grandma might be able to come though if the prison is still locked down this afternoon. So I am hoping they will be so that I don't have to go alone!
~~~~~~~~~~~~~~~~~~~~~~~~~~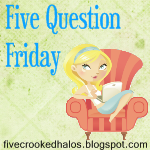 1.
Have you ever visited another country?
Just Tijuana Mexico if that counts. Oh wait I have been to Canada too after I graduated and was on a trip with grandma. We drove through Canada on our way from Michigan to New York to see the Palmyra pageant.

2.
Where is the strangest place you have ever been?
Probably Ontario Oregon. I hate that city more than anything. There is nothing there and it is such a waste of time. The only time I have been there is when I was on the truck with my husband and I hope I never have to go back!

3. What is your favorite season?
I don't have one to be honest. They all have there good and bad points to them.

4.
What one song will always cheer you up?
Pretty much anything will cheer me up. I just love to listen to music. It always makes my days better that is for sure.

5.
What Disney character do you resemble most?
I have never thought about this. Maybe Bell because she has brown hair like me?.?.