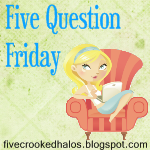 Questions for Friday, 3/12
: (Thanks to
Erica
,
Erin
,
Renee
,
Pam
, and
me
(I'm dying to know the bed making thing…) for their question suggestions! Wanna be linked in a future 5
QF
? Mosey on
over here
, to my community, and offer up your best questions!)
1. How much time do you spend on the computer a day?
Alot of time actually-I am on one all the time at work and then when I get home I am on mine for awhile as well.
2. Will you pay for your

children's

college or raise them to pay for their own way?
I will help them pay for it like my family helped me pay for mine.
3. Have you ever been in a car accident?
Yes I have and I still feel like an idiot for it.
4. What is your favorite book?
I don't know that I could pick just one-I really liked Please Stop Laughing At Me, My Sisters Keeper, and of course all of the harry potter books.
5. Do you make your bed everyday?
If pulling up the covers and pulling the girls blanket up counts then yes!