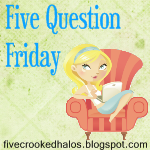 1.
If you could go back to college would you change your major? Or, if you were to go to college right now…what major would you choose?


When I go back to school I am not sure what I would want to do. I was going for nursing until I hurt my back. I was thinking for awhile I wanted to go into social work but now I am thinking maybe web design or graphic design but until I know I am not going go back and waste more time or money.


2. What do you love most about your home?


I love that my girls are here with me. I couldn't live with out my cubs! They make the world go round. Oh and my grandma because she is always doing something funny or weird and making me laugh!


3. What types of books do you like to read (if you like to read at all)?


I like books about WWII. I love to read stories that the Jews wrote or people who tried to save as many as they could. I also love books by Jodi Picoult. I don't read much but when I do I usually finish books really quickly.


4. What is the grossest thing you've ever eaten?


I don't eat gross things. I can't really remember eating something that I didn't like. I pretty much stick to things that I know I like.


5. If you HAD to be a character on a TV show, whom would you be?
If I had to be someone I would want to be on Dog The Bounty Hunter! I love that show and would love to be a bounty hunter.
I hadn't done this in awhile so I figured it would be fun to do it again!!!