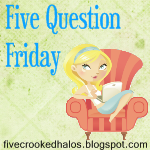 1.
Are you a neat sleeper or a messy sleeper?
I am a neat sleeper!

2.
Fill in the blank. I wish I was more ________________.
Outgoing-I am super shy and I wish that I was more outgoing when I was in social settings.

3.
What is something that you wish you had been warned abo
ut?
That all men are total idiots and a waste of time.

4.
What was the best thing you ever found at a garage sale/flea market?
I only went to garage sales when I was younger so I can't remember. I have always wanted to go to a flea market but there aren't any around here.

5.
If you could have any meal brought to you right now, what would it be?
Pizza!!!! I would eat pizza all the time if I could.
~~~~~~~~~~~~~~~~~~~~~~~~~~~~~~~~~~~~~~~~~~~~~~
Today's topic isn't that hard for me. I would hope that I would get the weight off and keep it off. I know some of you are thinking that it isn't that hard but because of the MS and some of the medications I am on it is super hard for me to do. I am not trying as hard as I could be but maybe one day when I am not as tired and sick all the time I will get the weight off and keep it off.
I hope everyone has a great Friday!