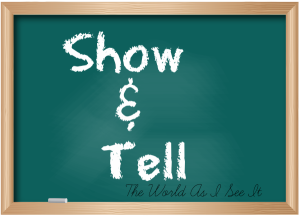 This week for the writers workshop I am going to write about number 1 which is something I brought for show and tell.  When I saw this prompt I was pissed that I still don't have the thing I brought to school a few times.  I had kept if for years and years and a few years ago I figured it was time to let them finally go.
I guess I should tell you all what I brought.  If you are squeamish you might want to just skip to the end because I am sure this will gross out some people.  I got my tonsils out the summer before I started the 2nd grade and the doctor let me keep them so I would always bring them because it would gross people out.  I always thought it was so cool to have them and be able to show other people.  I am not one that gets easily grossed out so I thought it was funny when other people did get grossed out.
I also brought my cat a few times as well.  I wasn't ever a huge fan of show and tell because I hated getting up in front of the class and having to talk to everyone.  To this day I still hate public speaking and getting up in front of people but that is a topic for another post one day.
What is one thing you remember bringing to school for show and tell?
This weeks prompts:
1. Something you brought for show and tell.
2. November 3rd is National Housewife's Day…how did you celebrate?
3. The meaning of your name…does it suit you?
4. Tell us about something new you learned last month.
5. Share a list of some of your most recent favorite things.
6. What was your favorite song when you were 16 years old…is it still a favorite?
After you write your post make sure you click here so you can link up.

Copyright secured by Digiprove © 2014 Margaret Margaret