Archives for December 2011

The Seer
by Martha Harris
Bobbi Wheeler is a psychiatrist who uses her psychic abilities to help her patients deal with depression and grief. This ability to know her patients' history and inner thoughts through a simple "touch" is the reason behind her successful therapy sessions with satisfied clients.
Bobbi doesn't always view her abilities as a gift, but a curse, because not all of her dreams are pleasant. She saw her grandfather's death in a dream when she was young child and tried to prevent it but couldn't. This started her feelings of helplessness whenever she dreams about dangers involving people she encountered and touched by chance.
While she may know the ways in dealing with emotional pain, she is also somehow battling with her own frailties and inner turmoil, making her long for the ocean and the pleasant things about it to give her peace. It is in one of these trips that she meets Lance Wolfe, a nonbeliever in psychics and a widower who blames himself for the death of his wife in a car accident. His guilt somehow hinders him from loving another woman again. Nonetheless, Bobbi opens his heart once more, but not completely. He seems to have the gift, as it is with him that Bobbi learns she can communicate using thoughts alone and go through someone else's psychic's mind.
In one of her visits to Lance's house in Belford, Bobbi feels like she's been inside a man who gave her the most horrifying nightmare ever. This man—who for a time she mistook as one of her patients, Tobias Emerson—murders a couple in her dreams. This man has the ability to control minds and although she is able to go inside the dream and prevent him from doing the crime, the man prevails over her and goes ahead with the carnage. After the police get involved, the man has only one thing on his mind—killing her.
About the Author
Martha Harris holds a degree in occupational therapy. She has been writing poems, short stories, and novels since she was in sixth grade.
(2011, paperback, 122 pages)
My Review
I didn't think that I would be able to get into this book but once I started reading it I couldn't put it down.  I loved the characters in this book.  The author did a good job at making the characters relate able and easy liked.  She also did a good job at capturing human emotions with the things the characters went through.  I loved the ending and was actually sad that the book was so short.  I really did fall in love with the characters and I also loved how to she told what happened to each of the characters over the years.  I don't usually read books over again but this one that I am sure I will read again and keep because it was such a great book.  If you are looking for a great mystery book with a love story thrown in than this is the book for you!
***FTC- I received a complimentary copy of (Book Title) as a member of the Dorrance Publishing Book Review Team.  Visit dorrancebookstore.com to learn how you can become a member of the Book Review Team. The opinions expressed in this review are mine and only mine.


Copyright secured by Digiprove © 2011 Margaret Margaret
I haven't written about my kids in awhile so I figure you might like to hear the latest thing that has happened to the baby of the group Sylvia.  If you have followed for awhile you know I have 2 cats Elinore or Alley Cat and Sylvia.  My grandparents also have a cat named Vinnie that has to be around 15 years old.  I recently received an awesome product to review on my blog (that review will be up in the next few days).  They packed the box with paper so that it wouldn't shift while it was being shipped.  Now my two cats are easily scared and my family has been known to torment them from time to time because of how they act.  My grandparents cat has always loved paper.  So he was playing in the paper and is actually still sleeping on the paper because every time we try and clean it up he gets upset that we get rid of it.  Anyway Vinnie decided that he was going to hide in the paper and jump out at Elinore.  Now of course she took of running both times he did it which gave me the great idea of scaring the girls myself.  Let me just say Sylvia ran into the metal railing as she was trying to get away and go hide in the basement.
She finally at one point decided that it was safe to come up so she came into my room and I was taking her to eat because she hadn't eaten because I had scared her.  My brother hears me coming down the hall holding her and he scared her again.  I think she would have been okay if she had only been scared the 2 times but then the next morning Vinnie is hiding in the paper again and scares poor Sylvia for the 3rd time.
Now my poor cat is having a hard time even functioning in the house.  I am sure part of it is because the paper is still in the living room because my grandma refuses to throw it out because Vinnie is still sleeping in it.  My hope is that after Christmas when the paper is gone and things are back to normal that she won't be as scared as she is now.
***I know I shouldn't have done it at all but it was funny.  I did get pissed when my brother did it the second time but there was nothing I could do since I had no idea he was going to do it until I walked past the paper and him.  If I had know I wouldn't have walked down the hallway with her.
I recently signed up for Influenster and I received my very first VoxBox from their program.  The thing that is so great about it is that the box's are free.  You sign up and then unlock badges for things that interest you.  When they have a box that matches your interests and things that you influence they send you that months box for free.  In the box that I received this month they had these great imPress Press-on Manicure nails in them.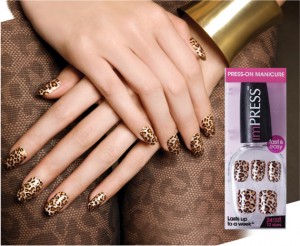 These nails are so super cute and are so easy to use.  Most of you know that I do get my nails done but if I didn't I would be all over these because they have great styles and patterns.  They also have most of the crazy things that I do on my nails now.  I really recommend these to anyone who wants the look of nails without the cost.  They are so cute and if I ever stop getting my nails do I am for sure going to be using these.

Copyright secured by Digiprove © 2011 Margaret Margaret
Are You wanting a new blog design for Christmas?
Do you know a blogger who would love a new design?
If you answered yes to either of those questions then this sale is for you. I am having a 50% off sale for any of my packages starting 12/12 and ending 12/31. If you are interested please fill out this form. Once I receive your form I will send you and invoice that reflects the 50% off price. Once I receive payment I will add you to my que. Right now I am free so if you want it done before Christmas make sure you fill out the order form and pay the invoice ASAP!
Also don't forget that if you refer 3 people to me and the people you refer buy a package from me then you will get a free design! Make sure if you refer someone that they put your name down on the order form so I can keep track of it.
***The price does not include any image/kit fee's. Also I add $3.00 fee to each order.

Copyright secured by Digiprove © 2011 Margaret Margaret
1. "If a mother and father can love more than one child then why is it so hard to understand that a child can love more than one mother and father?" ~ Unknown
2. "When she looks in the mirror, we want our daughter to know herself. It's hard to face the world when you don't know where your face came from." ~ Adoptive parents
3. "However motherhood comes to you, it's a miracle." ~ Valerie Harper, adoptive mother
4. "Adoption comes from the heart, but the adoption process comes from the Law. You should follow your heart, but be sure you also follow the law." ~ Irina O'Rear
5. "An invisible red thread connects those who are destined to meet,
regardless of time, place, or circumstance. The thread may stretch or tangle, but it will never break." ~ An ancient Chinese belief
6. "Children and mothers never truly part, bound together by the beating of one another's heart." ~ Charlotte Gray (This one is pictured on the graphic image above.)
7. "Giving birth does not make a mother…. Placing a child for adoption does not make her less of one." ~ Unknown
8. "There are two different kinds of strength. There's the strength to make a parenting plan and then there's the strength to give that plan to another."
9. "Having a child means a piece of your heart is walking around in the world." ~ Unknown
10. "Children need two things. One is roots and the other is wings." ~ Unknown

Copyright secured by Digiprove © 2011 Margaret Margaret