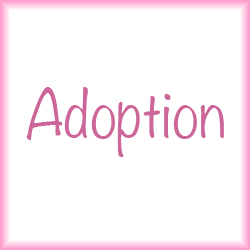 I am sure that most of you know by now that I place my daughter for adoption when I was 20.  She will be 7 in July and it is so hard to believe that it has been 7 years since I have been pregnant.  I never thought I was going to make it through the first year let alone 7 years.
I recently found a blog by Tiffany who recently adopted a little girl.  As I was reading through the story of her adoption I found a part in her post that put into words things I have wanted to say for 7 years but could never find the words.  Here is the quote:
 I deeply resent the people who have said, about birth parents, "I can't imagine ever giving away my child."  

The pain involved in the choice to place (not give away) your child for adoption is one most of us cannot imagine.  The reason it is painful is because when we love someone, our instinct is to hold tight and never let go.  This instinct isn't really the love itself but rather our own heart's selfish desire to protect itself from the pain of loss.

But birth parents understand that truly loving someone can mean letting go.  It can mean wanting more for your child than you feel you can give.

It is utter selflessness.  It is true courage.  It is pure love.
I read this quote to my grandma the other night and it brought tears to her eyes.  This says everything that I felt when I placed my daughter but have never found the words to express.  There isn't much I can really say about it because she says everything that is in my heart.   I really recommend that you should go and check out her blog and read the whole story of her adopting their newest little girl.
What do you guys think of her quote?

Copyright secured by Digiprove © 2012 Margaret Margaret