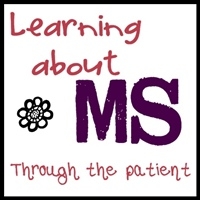 This week I am going to write about eating healthy. I realize now how important watching what you eat is. Since I have be diagnosed I found out that I shouldn't eat gluten. I don't think I have Celiac's Disease but I know if I eat gluten I am going to get a headache and a few other symptoms. I have noticed since I have cut out most of gluten in my life that the MS isn't as bad. Now this could be because of the medication I am on but I truly think that by cutting out the gluten my body isn't as reactive as it was when it always had it in my system.
The MS Society recommends a low fat high fiber diet. They say that you should eat a diet low in saturated fats and use supplements of Omega 3 and Omega 6 oils. I personally can't start taking any of the fish oils so I used to take Flax pills instead. I also read on another site where it says you should cut out all fried foods and refined sugar. They also say that white meats and fish are the best kinds of meat to eat. I personally am considering going back to being a vegetarian. You need to also cut out any foods that you are allergic too. You should eat lots of vegetables and drink plenty of water.
As I was researching for this post I realized that this "diet" isn't any different than what every person should be doing regardless if they have MS or not. I am going to try and follow what I have learned but I know it will be super hard for me. I feel like I already cut so much out when I took out gluten and dairy that I am not let with many choices. I know that I have to do this though so I am going to start working on it!
If you have any questions or have a topic that you would like to learn about please leave me a comment and let me know! I am always looking for topics.
Sources:
http://www.nationalmssociety.org/living-with-multiple-sclerosis/healthy-living/nutirtion-and-diet/index.aspx
http://www.streetdirectory.com/travel_guide/152132/e_diet/tips_for_a_multiple_sclerosis_diet.html