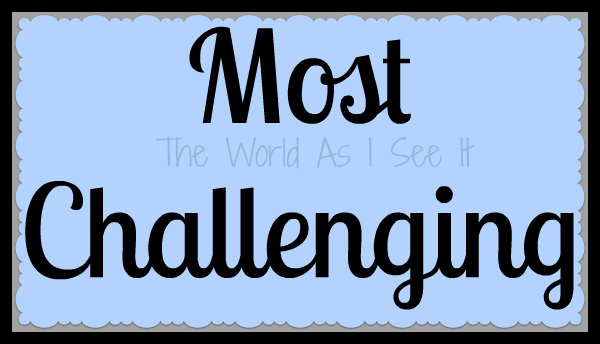 This week I am going to write about 1.) The most challenging part about blogging for you is…  I chose this one because now I am really struggling with certain parts of blogging and I wanted to write about them because there are definitely challenges that go along with blogging.
The first thing I have struggled with when it comes to blogging is coming up topics to write about.  I do tons of reviews because I love to read and it was a great way to find new books to read.  It took me awhile to break into the review world but I am glad that I did.  Anyway let's get back on topic.  Other than reviews I struggle with coming up with things to write about because I am scared to put certain things on my blog because I am worried about the reactions somethings could bring.  I have tried to get more personal when it comes to adoption and Multiple Sclerosis because I know I need to get my feeling out but it is hard to expose certain things about me and let other people in.
Another thing I am finding challenging is finding other blogs to read and comment on so that I can find more readers for my blog.  Since I don't really have a blogging niche like some blogs do so I am struggling to find other blog's that are like mine.  I know that people don't read my blog a lot because of the book reviews but I love doing the reviews so I just need to find a better balance between reviews & personal post I guess.
Those are the things that I find most challenging about blogging now.  Things always change in my world but as for now those are the things that I find the most challenging.  If you have any advice please let me know!
What do you find most challenging about blogging now? 

If you want to join in pick one of the prompts below and click here to link your post up!
1.) The most challenging part about blogging for you is…
2.) You HAVE to go back in time and choose a different career path for yourself. What do you choose?
3.) A blog post inspired by the word: sweet
4.) Describe your dream home.
5.) Choose a recent Instagram photo and use it to inspire a blog post!

Copyright secured by Digiprove © 2014 Margaret Margaret