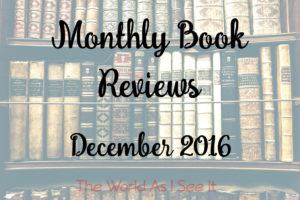 I am so glad that this year is almost over because it has been a wild year, to say the least. I am amazed how much things have changed for me in the past 12 months. I will have a post written about everything towards the end of this year or the start of next year. Let's get onto the list of reviews that I have coming up in December.
December 2nd–Pursuing Gold by Cynthia L. Simmons
December 6th– Fraying At The Edge by Cindy Woodsmall
December 7th– A Wedding For Christmas by Lori Wilde
December 7th– Of Stillness and Storm by Michele Phoenix
December 13th– Disruption by Chuck Barrett
December 14th– No Good Deed Undone by Ginny Fite
December 20th– The Twilight Wife by A.J. Banner
December 21st– The Kill Sign by Nichole Christoff
December 26th– Relentless (Audiobook) by Nancy J Alexander
It is a slower month for me this time, and I am okay with that. I have had a hard time getting all the reviews typed and scheduled to post because my work life is insanely busy. I am going to leave this post as it is and I will see you back you here tomorrow.

Copyright secured by Digiprove © 2016 Margaret Margaret