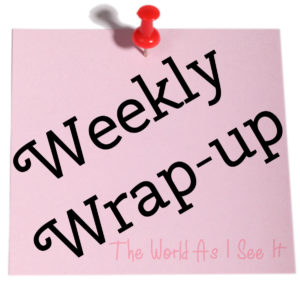 Another week is over and I am so glad because it has been a super long week for me.  I started to get sick after my treatment and I have spent all week not feeling good at all.  Here are all of the posts from the past two weeks in case you missed any of them.
The Ride Of A Lifetime by Kitty McGregor
Clint Eastwood – Quote Of The Week
Everlasting Lies by Barbara Warren
Monthly Favorites – September 2016
The Bookshop on the Corner by Jenny Colgan
The Things We Said Today by Lise McClendon
October 2016 – Monthly Book Reviews
Steve Jobs – Quote Of The Week
My (Underground) American Dream by Julissa Arce
The Kept Woman by Karin Slaughter
The Murder at Astaire Castle by Lauren Carr
This is all I have the time and energy for this week.  I am hoping that I will be feeling better next week so that I can share some of the fun things I found on the internet.  I hope you all have a great weekend!

Copyright secured by Digiprove © 2016 Margaret Margaret