FTC: I received a free copy of this book from iRead Book Tours in exchange for my honest review. I received no other compensation and the opinions expressed in this review are one hundred percent true and my own.
There's Been A Change Of Plans by Amy Koko was a fun book to read. I did find myself smiling through most of the book. Even though I am younger than the author is in this book I understood what she was going through and how hard it can be dealing with the things that she had to deal with. I loved this book because she shared the humor she saw in such a bad situation. It also reminded me that even if life is hard, I need to take the time to find the humor in the situation because that is the best way I have found cope with things that are causing me so much stress. If you or someone you know has gone through a divorce later in life, I know you will enjoy and understand this book even more than I did.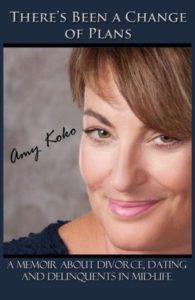 About The Book
Blogger Amy Koko bears her soul in her witty, bittersweet memoir, There's Been A Change of Plans: Divorce, Dating & Delinquents in Mid-life. Expecting a trip to Italy, Koko is blind-sided by her husband's confession that he's been putting his shoes under a much younger and prettier woman's bed. After twenty-seven years of marriage and four children, she faces the unimaginable: her life as she knows it is unraveling around her and her family's future is anything but certain.
In the literary tradition of Nora Ephron's Heartburn and Jenny Lawson's Let's Pretend This Never Happened, Koko's memoir details her journey from hearing the news that her husband is in love with a blonde, thirty-something Swiss pastry chef to trying everything from thong underwear to a mini-facelift to save her marriage, only to see it die in the parking lot of gas station.
With incredible honesty and humor, Koko takes the reader on a wild ride through the tough, emotional times of starting over through divorce, mid-life, finding a job, and Internet dating, all the while trying to keep her four teenagers out of jail.
There's been a change of plans, and that's just the beginning.
About The Author
After 27 years of marriage, Amy Koko went into divorce, kicking, screaming, stalking and drunk texting but lived to tell about it. She is the creator of the popular blog Exwifenewlife and a contributor to Huffington Post Divorce as well as Huffington Post Women. Amy lives in St. Petersburg, Florida where she begins each day with a freshly ground cup of good coffee and ends it with a good glass of pinot noir. Or chardonnay. Or a dirty martini. Whatever's handy.
Connect with the author:  Website  ~  Twitter  ~  Facebook
Buy A Copy
Enter To Win
a Rafflecopter giveaway

Copyright secured by Digiprove © 2016 Margaret Margaret