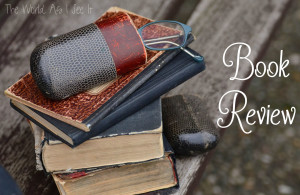 FTC: I received a free copy of this book from the author in exchange for my honest review. I received no other compensation and the opinions expressed in this review are one hundred percent true and my own.
From Scratch by C.E. Hilbert was a super sweet romance novel. This book was one that I wasn't sure if I was going to like when I back of the book but after I was a chapter or two into the book I didn't want to put it down. This was a super easy read for me which I always like. I liked that Maggie was a super relatable character, and I felt like I understood her and the things that she did. I am always a fan of characters like Sean as well. I always think that they are people I would get along with in the real world. The one thing that comes to mind as I think about this book is how sweet the story was. It does have a little bit of mystery to it, so I enjoyed that. It was predictable in the fact that I pretty much knew what was going to happen in the long run but even with that being said I still really enjoyed the book. If you love chick lit books than I know, you will enjoy this book just as much as I did.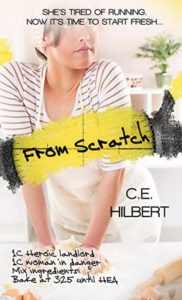 About The Book
Maggie McKitrick loves everything about her new life in Gibson's Run, Ohio—her charming bakery, her quirky customers, her distance from the past. Yes, she loves everything…except her new landlord. Police Chief Sean Taylor is like a piece of sand in an oyster—irritating, but with the promise of something beautiful. Despite Maggie's self-imposed man-fast, she wonders what kind of treasure she and the lawman could create together.
Sean Taylor likes to keep the peace, but his new tenant is making it nearly impossible to keep anything on an even keel—including his heart. Despite her sassy attitude, Sean is drawn to the beautiful pastry chef and has an overwhelming need to serve and protect her.
As Maggie and Sean draw closer together, her long buried dreams about her life are reawakened into a hopeful prayer…until a threat from her past promises to destroy their future. Will Maggie be forced to run—again—starting fresh? Or will God answer her prayer and give her the happily-ever-after she's started from scratch?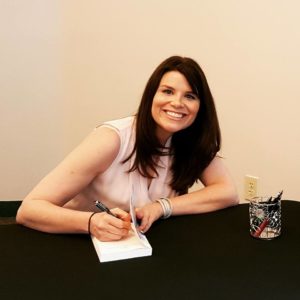 About The Author
I have four great passions: sharing Jesus with young people, telling happily-ever-after stories with humor, professional hockey and making cookies with real butter.

Copyright secured by Digiprove © 2016 Margaret Margaret