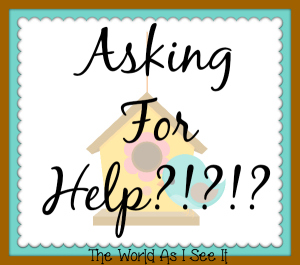 Today I am going to talk about asking for help and how I have a super hard time asking for help and I also have a hard time accepting help.  I am sure the reason for this is the fact that my grandma hardly ever asks for help.  I have found that I never ask for help.  I feel like I don't even know how to ask and just thinking about asking for help make me nervous.
As for accepting help I find that I don't really have people offer to help so I don't know have much experience with this.  I do know that the few times someone has helped me I feel bad because I think I should be able to do everything myself and hate when I can't do something.  I do ask for help at work because I am the first to admit that I don't know it all and even if I did know it all there is no way I can do everything, even if people think that I should be able to.
I guess the hard part for me is I don't really have anyone who is close enough to me that I would trust to ask.  I say this because I could use help at times with things that are personal and I also would never ask for help from people I don't know and trust.  I am lucky that now the Multiple Sclerosis isn't bad enough that I need tons of help.  I am really not sure what I will do when or if I ever get to the point where I have to ask because I am not sure I will be able to bring myself to be able to do it.
Those are my thoughts on asking for help and having people help me.  I need to figure out how to ask for help and how to accept help because I am sure I will need to in the future and right now I feel like I have no idea how to do either.
Do you have a hard time asking for help?  How do you combat it?

Copyright secured by Digiprove © 2014 Margaret Margaret