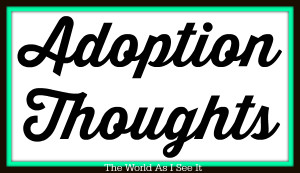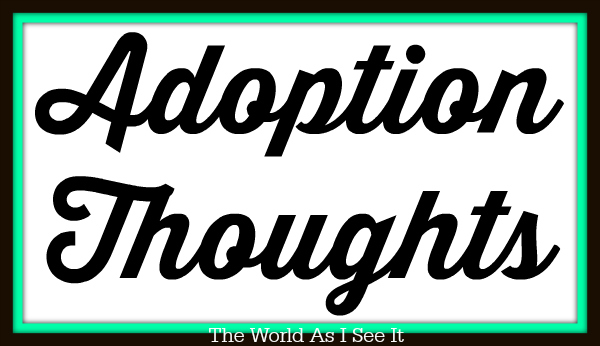 This week for adoption thoughts I am going to talk about something that I have heard over and over that just doesn't make any sense to me.  If you have missed the past adoption thoughts post you can click here and read them.  For today's post I am first going to list a couple of definitions of words that I am going to be talking about in today's post:
Sad

[sad] Spell Syllables

adjective, sadder, saddest.

affected by unhappiness or grief; sorrowful or mournful:

to feel sad because a close friend has moved away.

expressive of or characterized by sorrow:

sad looks; a sad song.

causing sorrow:

a sad disappointment; sad news.

(of color) somber, dark, or dull; drab.

deplorably bad; sorry:

a sad attempt.

Obsolete. firm or steadfast.
Regret

[ri-gret] Spell Syllables

verb (used with object), regretted, regretting.

to feel sorrow or remorse for (an act, fault, disappointment, etc.):

He no sooner spoke than he regretted it.

to think of with a sense of loss:

to regret one's vanished youth.

noun

a sense of loss, disappointment, dissatisfaction, etc.

a feeling of sorrow or remorse for a fault, act, loss, disappointment,etc.

regrets, a polite, usually formal refusal of an invitation:

I sent her my regrets.

a note expressing regret at one's inability to accept an invitation:

I have had four acceptances and one regret.
Now that you have read those 2 definitions let's get onto why I am talking about them.  I have had people say to me when I say I am sad about placing my daughter that "they know I made the right choice".  I know this is said out of love so it doesn't make me mad in that sense that I am upset that they think I made the "right" choice.  It upsets me just because I am sad about the situation doesn't mean I regret my choice.  You can be sad about something in your life and not regret the choice you made.  I will never regret my choice because I know it was the right choice for me and for her.  As you saw above them do have similar meanings but they aren't the same thing.
I am sad about a few things from my past but I don't regret anything I have gone through.   I spent years regretting choices I made but I have come to realize that I am who I am today because of those choices.  I just want people to know that just because someone is sad doesn't mean that they think they made the wrong choice or the regret what got them to this point.  It is okay to just be sad about things once in awhile.  I guess this post was more for me than for other people but I wanted to share just another thing I deal with because I am a birth mom.

Copyright secured by Digiprove © 2014 Margaret Margaret