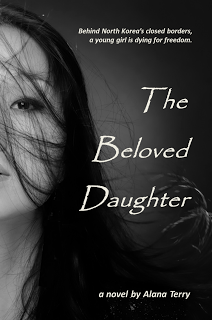 The Beloved Daughter by Alana Terry was one of the best books I have read in a long time. When I was first contacted by the author I thought it sound like it would be a good book to read but I never expect to be touched so deeply by the book. I took me about a chapter to get into the story and after that I was hooked and literally read the whole book while I was at work one day because I had to know how it ended. I felt so bad for all the characters and yet at the same time I was so proud of most of the characters. I do have say that some of the characters did shock me and weren't who I thought they were but I love when that happens because it so rarely happens anymore with the amount of books I read. I can't say more because I refuse to give the ending away but I recommend this book to everyone because it is amazing and so thought provoking at the same time.
The Beloved Daughter, an inspirational suspense novel by award-winning author Alana Terry, is a story of persecution and triumph set in the oppressive North Korean regime. The audiobook version of Alana's bestselling debut novel is narrated by Kathy Garver, a four-time Audie award winner and Lifetime Achievement Award recipient from the Motion Picture Council. (You might also recognize Kathy as Cissy from the TV show Family Affair.)
Listen to a sample of Kathy reading from The Beloved Daughter.
The Beloved Daughter
Synopsis: In a small North Korean village, a young girl struggles to survive. It is her father's faith, not the famine of North Hamyong Province, that most threatens Chung-Cha's well-being. The Beloved Daughter follows Chung-Cha into one of the most notorious prison camps the contemporary free world has known. Her crime? Being the daughter of a Christian.
Acclaim:
*Winner, Women of Faith Writing Contest
*1st Place, Book Club Network Book of the Month
*Amazon Bestseller (#5 Christian Suspense)
Reviews:
"…an engaging plot that reads like a story out of today's headlines…" ~ Women of Faith Writing Contest
"Alana is a master storyteller, and I can't imagine anyone failing to be
captivated by this harrowing tale. What we have here is a compelling
story, but it's also one of great importance." ~ Brad Francis, Author of The Savvy Demon's Guide to Godly Living
"The Beloved Daughter is a beautifully written story that is…both personal and representative of the challenges that many North Koreans still face today." ~ Sarah Palmer, Rescue Team Coordinator at Liberty in North Korea
"The author does a phenomenal job… HIGHLY RECOMMENDED – but have tissues handy." ~ Pauline Creeden, Editor AltWit Press
Order your own copy of The Beloved Daughter.
Awesome Prizes!
You don't want to miss out on the month-long Beloved Daughter audiobook launch party. See the Alana Terry facebook page to get started. Multiple winners every week … Hundreds of $$$-worth in prizes!
ENTER THE DRAWING: In addition to the Facebook party, you can enter the grand prize drawing below for a chance to win a $100 gift card to either Target or Amazon (you choose!), or one of the awesome prizes from the prize gallery (think Christian T-shirts, jewelry, books, CDs, lotions, and more)!
SEE THE AUDIOBOOK HERE

Copyright secured by Digiprove © 2013 Margaret Margaret