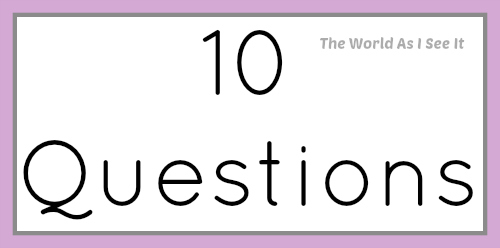 I got the idea for today's post from The Daily Post and figured I would answer the 10 questions that they had listed because I didn't have much time to get a post ready for today.  I am always going crazy because I have to get a weeks worth of blogging done before I am off of work during the week of Thanksgiving.
What is your favorite word?  

I don't know that I have a favorite word.  I am always saying words wrong on purpose but if I had to pick one word that was my favorite I would have to say it would be Puce.   I like the word because it is fun to say and there is no set color for what color it is.

What is your least favorite word? 

I would have to go with effect & affect because for the life of me I can never remember which one is which and I always end up having to google them and see which one I should be using.

What turns you on creatively, spiritually or emotionally?  

I would have to say music is what makes me start thinking and wanting to get creative.

What turns you off?  

Stress and being depressed.



What is your favorite curse word?  

I would have to say shit is my favorite curse word but I do used some of the others at times as well.

What sound or noise do you love?  

I can't really say that there is one sound that I love more than other sounds.  I do love listening to the bag pipes even though they make me want to cry most of the time.

What sound or noise do you hate?  

I hate nails on the chalkboard and even now just thinking about it make me want to cringe and it also makes my fingers hurt.

What profession other than your own would you like to attempt?  

I have always wanted to be a life flight nurse so I would love to try that or even being a lawyer.

What profession would you not like to do?  

I would hate to teach school because I don't have the patience to do that kind of work.

If Heaven exists, what would you like to hear God say when you arrive at the Pearly Gates?  

I am not sure but I know I would want to know why things happened in my life.  I might be the one to ask why before he even got a chance to say anything at all.
If you answer these questions leave the link to your post in the comments so I can check out your answers!

Copyright secured by Digiprove © 2013 Margaret Margaret