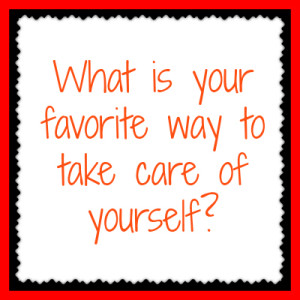 I am not sure how many of you read this post where I talk about volunteering for The Band Back Together project.  I am still helping them out and they have started a new thing where on Friday's that post a question for people to answer and since I am always trying to find things other than book reviews to write about I am going to start writing about them.
Today I am going to answer the question that was asked in this post of theirs: What is your favorite ways to take care of yourself?
I have found that lately my favorite way to take care of myself is once I leave work I don't turn on a computer and I try not to use my phone.  I find that if I am always connected to social media I tend to get burnt out super quick.  When I am home from work I don't turn on a computer and I just relax so that maybe I will be able to sleep without taking any medication.

Another way I like to take care of myself is to read books and as I am sure you can tell I have no shortage of books to read right now.
I also take the time to laugh.  My grandma and I are always laughing about something.  Laughter can brighten any day and make a bad day better.  I have learned to not take the world so seriously and laughing helps me do that.
I also get my nails done ever 3 weeks.  Which is a great way for me to relax and change things up.  I have started to post what my nails look like after I get them done so if you are interested you can check out those post right here!
What do you do to take care of yourself?

Copyright secured by Digiprove © 2013 Margaret Margaret