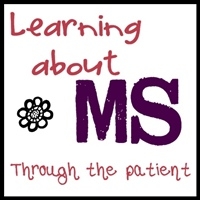 It has been quite awhile since I have written and update about Multiple Sclerosis and what has been going with that.  I had an MRI at the end of August and it showed that I am still 100% stable which is amazing for me.  The MS has always been very active in me so that fact that I have been stable for about 4 years or so now is huge for me.  I know it has everything to do with the Tysabri and that makes it all worth it for me.
While I was at my doctors appointment she asked me is I wanted to get tested for the JC virus, which for those people who don't know it is what cause people on Tysabri to get PML.  I told her no because I won't stop taking Tysabri so I really don't want to worry about it if I do have the JC virus.  She did tell me that if and when I do have another relapse I will have to get the test done to rule out that  I haven't developed PML.  My chances of developing it now that I have been on it for about 4 years is really low so I am not worrying about it all.
Other than that there hasn't been any changes.  I still have ups and downs when it comes to how I feel and things like that but that is pretty normal.  So there isn't much else I can say.  I am stable and doing pretty well.
If you have any questions please let me know!