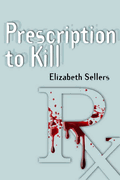 MEDICAL MYSTERY!
In a large teaching hospital in Dallas, Texas, the neurosurgery department has the usual mix of new and old interns with their usual mix of problems, but it also has a couple of unexpected and unexplained deaths.…
MEDICAL MAYHEM!
Joan Murdock, first-year neurosurgery intern, can't save the life of a good friend whose death simply doesn't make sense—or maybe makes too much sense….Next is a hospital pharmacist who perhaps knew too much….And then a grim attack on Joan herself….
MEDICAL MURDER!
The method's unusual; the motive's chilling. Add to the potent brew a couple of torrid love affairs and a secret drug addiction, and somebody's got a…
PRESCRIPTION TO KILL!
My Review
I loved this book!!!!!!!!!!!!!!!!!!!!!!  I could not put this book down because the characters are doctors and it is a mystery.  I have never read a book like this before and now I am hooked on them.   I loved the characters and I was sad when one of the main characters gets killed.  I was also rooting for her best friend to figure out who killed her.  Now I knew the main person they thought killed her didn't do it but I couldn't figure out who really did it.  Every chapter when they found out something new I would change who I thought did it but I never would have figured out who really did it.  After I found out who did it I just sat there in shock because I never would have guessed in 100 years that they did it.  I also loved how the author wrote a little bit about most of the main characters right at the beginning so you would know a little about them and also so you can go back and look at them if you forget who someone is and how they tie into the story.
I can't any enough good things about this book!  Everyone needs  to read this book!  Go here and pick the book up you won't regret it!
FTC-I received "Prescription To Kill" from Dorrance Publishing Co, Inc for me to review.  I was not compensated in any other way.  The opinions expressed in this review are 100% mine

Copyright secured by Digiprove © 2012 Margaret Margaret