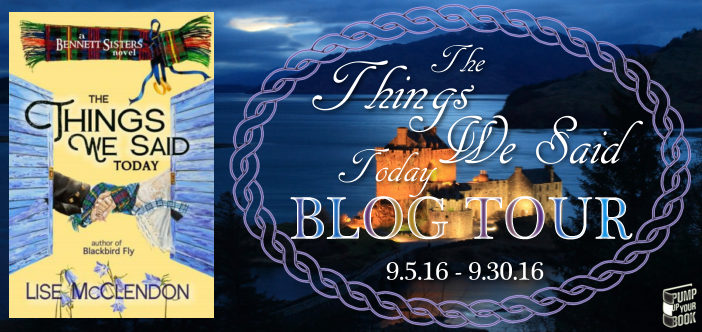 FTC: I received a free copy of this book from Pump Up Your Book in exchange for my honest review. I received no other compensation and the opinions expressed in this review are one hundred percent true and my own.
The Things We Said Today by Lise McClendon was a great book that I loved from the first page. While I was reading this entire book I had a smile on my face because of some of the things that the characters were doing throughout the book. I also loved that this book takes place in Scotland. I have always wanted to travel there and after reading this book I know that at some point I will have to go.   I loved all the crazy personalities that are in this book because you never knew what was going to happen and I loved that about this book. I am usually not a huge fan of romantic comedies but I loved this book and I know that I will be picking up the others books in this series because I loved everything about the characters and their personalities. The characters are people that I would want to hang out with in real like which means that the author did an excellent job of making the characters come to life as I was reading this book. If you love romance novels that leave you smiling after the book is over than I know this is the right book for you.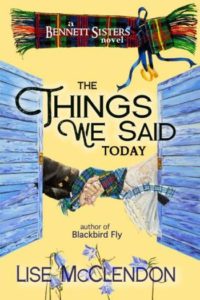 About The Book
Five sisters, all lawyers, well-trained in the art of demanding what's necessary.It's enough to drive a wedding planner to tears. Then add in a European venue, a Scottish hunting lodge, and a reluctant bride, and things get dicey. Can the middle sister, Merle, rally the troops, deal with the in-laws, and stop a powerful storm from ruining everything? Merle has powers of persuasion, especially when it comes to her French beau, Pascal, but in Scotland she has no clue how to corral her out-of-control sisters who are hellbent on wringing every bit of drama from a bad situation.
Annie Bennett is getting married…. At the ripe old age of 55. She's turned down a few proposals over the years and stayed true to her motto: Stay single, stay happy. When she met handsome Scot Callum Logan she had no intentions beyond her own personal Highland fling. Then it happened: she fell in love. Annie's doubts about marrying a much-younger man continue to plague her. Callum wants to get married in the bluebells of his native Highlands. But does Annie want to get married at all?
Join the Bennett Sisters in their third rollicking novel, after Blackbird Fly and The Girl in the Empty Dress, in another summer adventure with romance, intrigue, men in kilts, plus wine and whisky, as they navigate the treacherous waters of middle-age, self-discovery, and understanding your fears.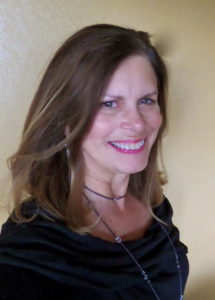 About The Author
 Lise McClendon writes fiction in the Rocky Mountains of Montana. She has been a film reviewer, a film maker, a journalism professor, and a PR flack. Since her first novel, The Bluejay Shaman, was published in 1994, she has served on the national board of Mystery Writers of America and the International Association of Crime Writers/North America, as well as on the faculty of the Jackson Hole Writers Conference where each year she critiques, speaks, and learns from writers new and old.
Lise McClendon also writes as Rory Tate.
Her latest book is the women's fiction, The Things We Said Today.
For More Information
Buy A Copy
Excerpt

Copyright secured by Digiprove © 2016 Margaret Margaret