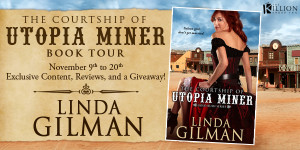 The Courtship of Utopia Miner by Linda Gilman was such a cute book to read. The entire time I was reading this book the only thing I thought was how great this story was. I couldn't help but laugh and love Utopia because of what she wanted to do with her life and the fact that she had 3 dads. I loved this author's style of writing. There were times when I laughed out loud because the entire situation was crazy but the author wrote about in a way that makes you laugh. If you are looking for a great historical fiction novel than I know you won't want to miss this one.
About The Book
Title: The Courtship of Utopia Miner
Author: Linda Gilman
Series: Gold Rush
Genre: Historical Romance
Release Date: November 9th 2015
Publisher: Indie Published
Print Length: 289 pages
Format: Paperback and Digital
Print ISBN: 9781517538941
Digital ISBN: 1517538947
Utopia Miner is tired of hunting gold and caring for her three adopted fathers. Living in a Rocky Mountain mining camp is holding up her dream of becoming a saloon girl. If only she could learn the essential skills of singing, dancing and kissing, she'd be on her way to a glamorous life. When Utopia discovers she's the prize in her three fathers' marrying scheme, she sees benefits in going along with the courting contest. She now has a kissing teacher. And wow, what a teacher. One starter kiss from Lance and her body's sweating in places it never had before.
Lancelot Jones wants to turn in his life-risking marshal's badge for a much safer job as a reporter, but the newspaper wants articles as proof of his qualifications. When his editor sends him to a mining camp to get the scoop on a courtship contest, Lance discovers the privilege of covering the story hinges upon chaperoning the bride-to-be. He soon finds himself ensconced in Utopia's innocent charms and demanding saloon girl lessons. In short order, chaperoning the bride-to-be becomes risky business.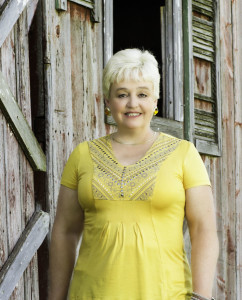 About The Author
Linda Gilman is known for writing humorous western romance novels. Her stories are centered on independent, strong-willed women, and courageous heroes who always protect the innocent without violating their personal code of conduct. It's the cowboy west readers are so enamored with and a twist of zany plot. From first page to last, her books are loaded with pain-in-your-side laughable moments.
She has a deep love of the American gold rush era and often uses this as an excuse to do book research and travel to ghost towns in the western states.
Born into a city girl life, her parents raised her in St. Louis County. However, Linda has always felt her country girl roots calling her to move west young woman. She currently lives in rural Missouri with her hubby and the oldest of her three sons.
Buy Your Own Copy
Excerpt

Copyright secured by Digiprove © 2015 Margaret Margaret