This year for Christmas I got my first iPod.  It is hard to believe that I love Apple products and yet I have never had an iPod.  Anyway I got the blue one.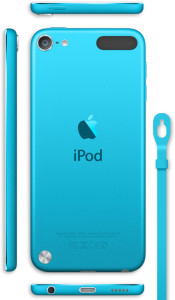 I was so excited to get it and now that I have it I know for a fact that I want to get an iPhone.  I just have to figure out where to get one from and then I have to take it to T-Mobile and have them activate it for me.  Anyway that was so not what this post is about.  My grandparents also paid off my dentist bill so that was nice as well.  I literally spent all day yesterday messing around with it and downloading apps on it.  I love that I can now carry around all my music and it also gives me something else to mess around with when I can't sleep at night.
Christmas was better this year than it has been for the last few years so that was nice as well.  I think I am going to write a separate post on why Christmas day is hard for me now.  I haven't written about it yet because up until this year I wasn't able to get through the day let alone write a post about it.  So be on the look out for that.