FTC: I received a free copy of this book from iRead Book Tours in exchange for my honest review. I received no other compensation and the opinions expressed in this review are one hundred percent true and my own.
The Berlin Package by Peter Riva was another great book by this author. I read the first book in this series, and if you missed the review of that book, you could click here to check it out. You don't have to read the first book to understand what is going on in this book, but if you want to read both books, I would recommend that you read them in order because this book will ruin what happens in the first book if you read it first. I had high hopes for this book, and it was a good book, but I enjoyed the first book more than I did this one. I am not one hundred percent sure why I enjoyed the first book more, but I did like it more than this one. I also hope that he does write more in this series because I love the characters, and I would be sad if this were the last book with them. This book takes place in Berlin, which I enjoyed. I also loved that Mbuno is in this story as well because he was one of my favorite characters from the first book. If you love thrillers, I know you will love this book.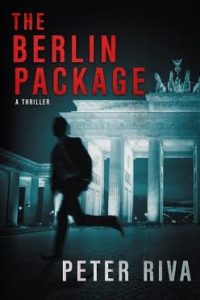 About The Book
Film producer Pero Baltazar thought he was taking a Berlin filming assignment. He needed the work, needed to get back in the saddle after fighting off a life-threatening experience in East Africa—alShabaab had attacked his crew, intent on a much larger terrorist attack. Suddenly he finds himself under orders from his part-time employers at the State Department and the CIA when he is handed a mysterious package. It's an assignment he doesn't want. The problem is, it's a job contracted by mysterious patrons who are prepared to kill him if he doesn't deliver.
Pero—now in far too deep—turns to friends, old and new, to help him unravel the mystery of the package, uncover connections to Nazi concentration camp gold recently sold by the US Treasury, and thwart the ex–Stasi chief, now head of a powerful banking group.
In this fast-paced sequel to Murder on Safari, Pero calls on Mbuno, his friend and East African safari guide, to anticipate the moves of his enemies as if they were animals—dangerous vermin—who have kidnapped both the film star and director. Mbuno's tracking skills may keep them from getting killed—provided Pero can rope in more help and keep the CIA at bay.
Exhilarating and expertly crafted, The Berlin Package (Yucca Publishing; April 2016) is a gripping, page-turning thriller set in post–German reunification Europe.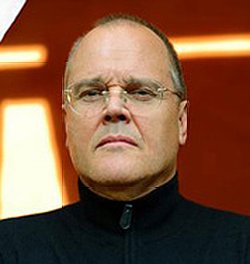 About The Author
Peter Riva has spent many months over 30 years travelling throughout Africa and Europe. Much of this time was spent with the legendary guides for East African hunters and adventurers. He created a TV series in 1995 called Wild Things for Paramount. Passing on the fables, true tales, and insider knowledge of these last reserves of true wildlife is his passion. Nonetheless, his job for over forty years has been working as a literary agent. In his spare time, Riva writes science fiction and African adventure books. He lives in Gila, New Mexico.
Connect with the author:   Website   Twitter   Facebook
Buy A Copy
 Amazon   Barnes & Noble   Book Depository   Chapters / Indigo
Enter To Win
a Rafflecopter giveaway

Copyright secured by Digiprove © 2016 Margaret Margaret