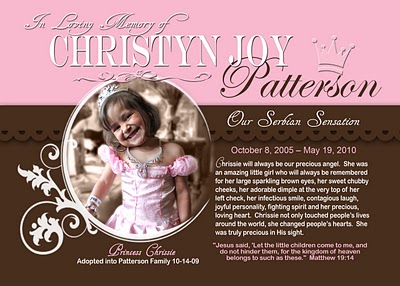 I started reading "All Are Precious In His Sight" in April of 2010 while the little girl named Chrisse that they adopted from Serbia was in the hospital after having heart surgery.  She passed away after fighting for 31 days.  Chrisse was an amazing little girl and she taught me so much.  I never met her but knowing her story she showed me that there are so many children out there that need homes.  It breaks my heart to know that children that have disablities in other countries and just left in orphanages and eventually get transfered to adult institutions where they spend all of there time in cribs being basically ignored.
Right now they are in Ukraine adopting these two precious boys who have down syndrome.
They are going to name them Cooper & Conner.  Let me tell you a little bit about these two boys.  You look at them and think that they are 3 maybe 4 but no these two boys are 6 years old.  They are in cribs all the time and Conner has bed sores on his back.  They are posting every day on there blog about visiting with the boys twice a day and also they upload videos to their YouTube channel of the  boys and them interacting with them.  I bought a bright pink hoodie from a fundrasier they were doing trying to raise money to get and get two different boys but that adoption ended up not working out.  I have been reading their updates everyday and watching the videos.  My grandma also asks me each day what went on today with them.  I want to ask everyone to pray for them so that they can get these two boys home soon!
I felt the need to write about this because there are so many kids out there who need families.  As everyone knows I am a birth mom so I know all about domestic adoptions but I knew nothing about international adoptions.  They found Chrisse and both of these boys through Reece's Rainbow.   Reece's Rainbow lists all the kids they know about that have some sort of disablities it is also a place for people who want to help but don't feel the calling to adopt.  They let people donate money to any of the kids so that when their families find them there is some money already to help out with the costs.  I was not asked to write this but I want to let people know that if you want to help out orphans you should donate money to these kids and help them find their forever homes.  I am going to pick a child or two and try and raise money for that child so that they can find a family.  I ask that if you have a few extra dollars please consider donating to this site and help out these precious children.


Copyright secured by Digiprove © 2012 Margaret Margaret