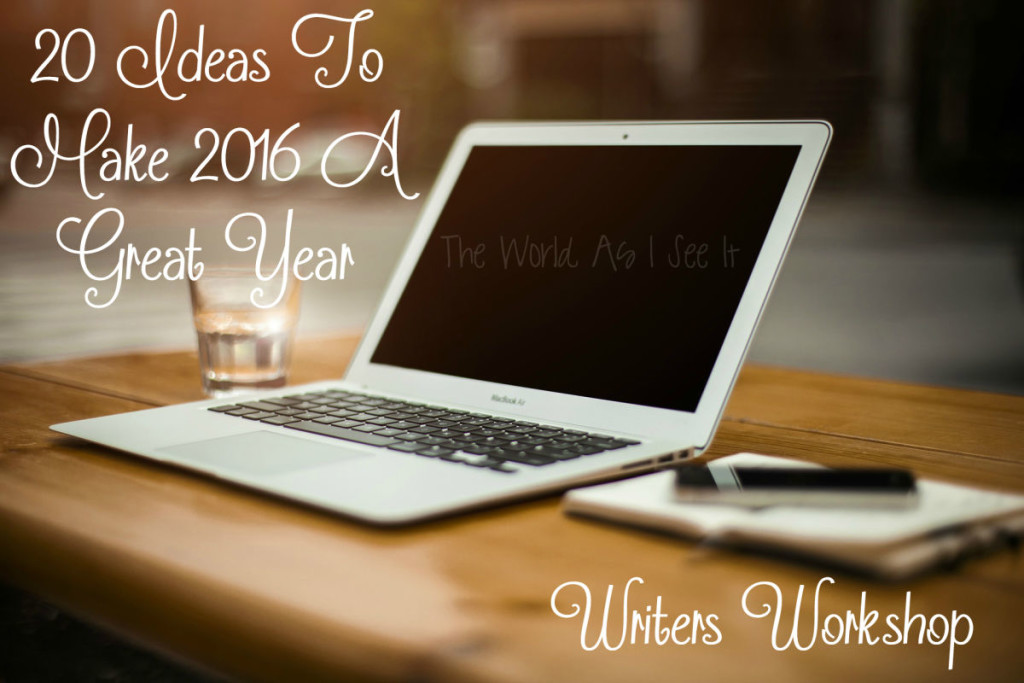 This week I chose to write about number 2 which is: 20 Ideas To Make 2016 A Great Year.
Make a list of YouTube videos that make you laugh.
Pick a different quote each day to focus on for the day.
Do something every day that will make you smile.
Think of 3 things that you are grateful for each morning right when you get up.
Try and focus on the good in your life and not on the negative stuff.
Get a new pet to love.
Spend times with your friends more often.
Pick a good book to read once a month.
Find a hobby that you love and try to do it once a week.
Try and not be around the toxic people in your life.
Watch a movie that you know will make you laugh.
Try and find the good in every day.
If you are unhappy with your job, then find a new one that you will enjoy.
De-clutter your house and your spaces.
Spend time in the real world more often and put down your digital devices. I do this because one the weekend comes the last thing I want to do is turn on my computer or mess around on my phone. I started this when my last laptop died, and I have to say that I have kept it up because it is a great feeling to be able to disconnect for a few days.
Don't watch or read as much news because we all know that watching/reading the news will either piss you off or make you depressed.
Put a limit on how much time you spend on Facebook. Nothing good ever comes of spending your entire life on Facebook.
Spend your money wisely and put money in savings.
Take the money you have saved and go on a vacation even if you stay in the state you live in. Get a hotel room and just relax for the night.
Go and get pampered because everyone needs to feel special some of the time.
Those are the 20 things that I was able to come up with.
What are you going to do to make this the best year yet?
Here are the prompts for this week in case you want to join in or if you are just looking for something to write about on your blog.  If you do join in make sure you click here and link up your post so I can check out what you chose.
1. The last time my heart melted was because…
2. A list of 20 ideas to make this your best year yet.
3. Write about how you would spend the perfect Snow Day.
4. Write a blog post inspired by the word: fight.
5. If you could have given yourself a snapshot five years ago of what your life is like now, what would the picture be of and how do you think you would have felt about it?
6. Share a favorite recipe you have been loving.

Copyright secured by Digiprove © 2016 Margaret Margaret