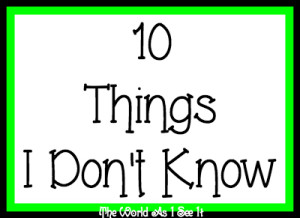 This is just a random post that has been floating around in my drafts folder for awhile that I am going to finally take the time to finish and post.  The topic for this post is 10 things I don't know and/or understand about the world we are living in today.
1-Why time goes so much faster now that I am an adult.  I can remember when I was growing up how slow time seemed to go and now that I am an adult I can't believe how fast time goes and I am having a heck of time knowing that it is already July.
2-Where in the world all the stupid people came from.  Maybe this is just because I seem to deal with tons of them daily but it seems like they are reproducing faster than ever before.
3-Why people have to be so rude to the receptionist when they are pissed off at someone else.  I get bitched at on a regular basis because one the salesman won't answer his phone and things like that.  I hate to break it to the world but I don't control them or what they do because if I did this would be a whole lot different.
4-Why people still insist on messing with their phones while they are driving on the freeway or driving at all.  I used to be one of the people who messed with their phones but I realized just how dangerous it can be and stopped using my phone while I am driving.  In fact my family knows that if I have left work for the night that it won't do them any good to call me because my phone is in my purse where it will stay until I get home.
5-I don't get why people think everyone needs to be just like someone else.  We are all different for a reason.  The world would be boring if we were all the same.
6-Where all the common sense went in the world.  I see people do things or listen to people talk and I have to wonder where their common sense went.
7-I don't understand why there needs to be so many commercials for things like Viagra & Cialis when I am trying to watch TV.  Nobody want to see them but I do have to say I loving listening when they read off the side effects lol
8-I don't get people refuse to use their blinkers when they want to change lanes and/or move over.  I mean every car has them and they make driving so much easier and traffic flow better.  I also don't understand why some people refuse to let you over even when you have your blinker on.
9-I don't understand why some people feel the need to yell into their cell phone like the other person is deaf.  Most people can hear you just fine so you really don't need to yell all the time.
10-I won't ever understand why people feel the need to be mean to other people when they are on the internet because we all know if they were face to face with the person they are talking about they wouldn't have the guts to say anything to them.
Those are the top 10 things that I don't know or understand about the world we live in today.  Do you agree with me or do you have your own thoughts.  Please let me know what you think in the comments below.

Copyright secured by Digiprove © 2014 Margaret Margaret