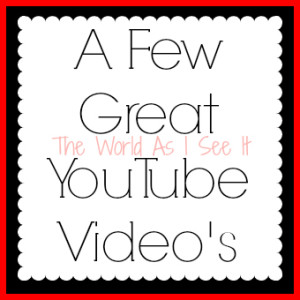 Since I am about down to the end of review list I get to post more actually posts and I decided that I am going to post a few great YouTube video's that I have found recently.
#1-This first one is actually two video's because there is a part 1 & 2.  I usually don't like things like these but because it is October I really enjoyed it.
#2-I am sure everyone out there has already seen this one but I find myself watching it over and over because it makes me smile.
#3- I found this video through another one and I have to say that these guys are my latest musical obsession.
#4- There isn't much to say about this next video other than I love this girls music.
#5- I love this one because it is an amazing story and like the title of the video says "Try to Watch Without Crying. . ."

Copyright secured by Digiprove © 2013 Margaret Margaret