FTC: I received a free copy of this book from Litfuse in exchange for my honest review. I received no other compensation and the opinions expressed in this review are one hundred percent true and my own.
A Fragile Hope by Cynthia Ruchti was an interesting book, to say the least.  I had a hard time getting into the book, but once I reached chapter four, I didn't want to put the book down.  I was so glad that I didn't give up on the book because once things started to happen in the book, I was hooked and didn't want to put it down.  I also didn't like Josiah in the first few chapters because I thought he was a jerk and should have paid more attention to his wife.  After I was to chapter four though I started to feel bad for him because yes he was disconnected from his wife, I couldn't help but feel sad because his wife seemed to have been lying to him as well.  This book kept me guessing because you aren't sure what is going on throughout the entire book.  It was a book that kept me guessing because just when I thought I figured out what was going on, I soon found out that I was wrong and I love books that do that.  I would recommend this book to anyone who loves mystery books.  I say that because it is rare that I find books that keep me guessing because I have gotten pretty good at figuring out what is going on.  I also wanted to add that I haven't read a book by this author that I haven't liked, so she is one that I think most people enjoy the books that she has written.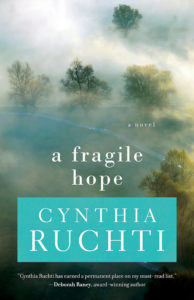 About The Book
Hope grows when seeds are planted-even in the muddy middle of life.
Josiah Chamberlain's life's work revolves around repairing other people's marriages. When his own is threatened by his wife's unexplained distance, and then threatened further when she's unexpectedly plunged into an unending fog, Josiah finds his expertise, quick wit and clever quips are no match for a relationship that is clearly broken.
Feeling betrayed, confused, and ill-equipped for a crisis this crippling, he reexamines everything he knows about the fragility of hope and the strength of his faith and love. Love seems to have failed him. Will what's left of his faith fail him, too? Or will it be the one thing that holds him together and sears through the impenetrable wall that separates them?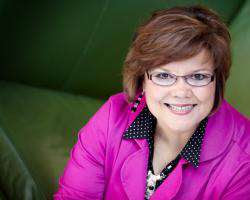 About The Author
Cynthia Ruchti tells stories hemmed in hope through her novels, novellas, nonfiction books, articles and devotionals, drawing from 33 years of on-air radio ministry. Ruchti has written more than 20 award-winning novels, novellas, nonfiction books and devotionals. Her books have received numerous awards and nominations, including the RT Reviewers' Choice, ForeWord Reviews Book of the Year nominations, two Selah Awards, Christian Retailing's BEST, was an ACFW Carol Award finalist and a Christy finalist, among other honors. Her latest release is the novel A Fragile Hope.
One of Ruchti's greatest joys is helping other writers grow in their craft. To that end, she has served as worship and devotions staff and faculty for the Write-to-Publish conference and teaches at other writers' conferences across the country and internationally as opportunities arise. She also serves as the professional relations liaison for American Christian Fiction Writers.
Ruchti speaks frequently for women's groups and serves on her church's worship team. She and her husband live in the heart of Wisconsin, not far from their three children and five grandchildren.
Find out more about Cynthia at http://www.cynthiaruchti.com.

Copyright secured by Digiprove © 2017 Margaret Margaret