FTC: I received a free copy of this book from iReads in exchange for my honest review. I received no other compensation and the opinions expressed in this review are one hundred percent true and my own.
The Question by R. Breuer Stearns was an interesting book. When I read the back of this book, I was super interested to see what it was all about but after the first couple of pages, I was worried that I wasn't going to like it. After I was a couple of chapters into the book, I didn't want to put it down. It was a book that I would take breaks from because it did make me think and that didn't bother me at all. I love that I spend a good amount just thinking while I was reading this book and in the end, I enjoyed the story and the characters in the book.  I also wanted to say that it is an easy read even though it did make me think.  If you love books that make you think but also have a great story to go along with than I know you will love this book as much as I do.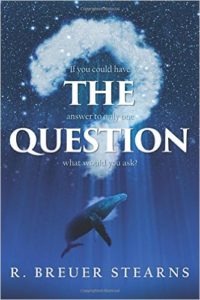 About The Book
THE QUESTION invites readers to consider this premise:
If you could have the answer to one question, and only one question, what would you ask… and who would try to stop you from asking it?
To what extremes would they go?
THE QUESTION is a thriller that explores a new way of thinking, a method powerful enough to answer very complex questions . . . perhaps powerful enough to solve the universe's most fundamental mysteries . . . perhaps powerful enough to resolve religions' most beguiling unknowns.
THE QUESTION is an adventure story . . . fiction that you may wish, may believe, may know, is true. The narrative occurs in the present, with scenes in California, Washington, D.C., Paris, Shanghai, New York, and Afghanistan.
THE QUESTION is ideal reading for anyone who is curious . . . for those who gaze into the cosmos at night and wonder . . . for those who look into the mirror and imagine . . . for those whose hearts beat faster when confronting the unknown . . . for readers who enjoy a fast paced, contemporary thriller that inspires them to think. 
About The Author
R. Breuer Stearns is an investor and author.
Mr. Stearns graduated from Phillips Academy, Andover (1970), Harvard University (AB, 1974), University of Chicago (MBA, 1977), and DePaul University College of Law (JD, 1979). He rapidly ascended on Wall Street in the 1980's, serving as Managing Director, Mergers & Acquisitions at Lehman Brothers and Head of Investment Banking (North America) at UBS Securities.  While living in New York, he founded "Terrific Teachers, Inc.," a foundation dedicated to identifying and rewarding the best of the best of the city's public high school teachers.
Shortly after the fall of the Berlin Wall, Mr. Stearns launched a private investment bank in the former Soviet Union.  He spent the early 1990's seeking to marry emerging science, primarily emanating from Russia's Defense sector, with Western capital.  During this period, Mr. Stearns made a small fortune, albeit from a larger one.  The venture provided a remarkable lesson in hubris, a tremendous reservoir of internal strength, and first-hand source material for Mr. Stearns' first book, Winning Smart After Losing Big (Encounter Books, Beijing University Press).
Subsequently, Mr. Stearns served as Chief Financial Officer of The Dial Corporation, Chief Financial Officer of Columbia/HCA Corporation, Chief Financial Officer of PacifiCare, Inc., President and Chief Operating Officer of Vascular Genetics, Inc., and Chairman and Chief Executive Officer of Quepasa Corporation (QPSA:Amex).
Mr. Stearns is a Founder of VestaPoint Capital LLC, a family of investment funds focused on real estate development.  He lives in Arizona with his wife, two dogs, two cats, and a horse.  He travels extensively and is intensely curious.
Connect with the author:   Website ~ Facebook
Buy A Copy
Amazon  ~  Book Depository ~ Barnes & Noble
Enter To Win
a Rafflecopter giveaway

Copyright secured by Digiprove © 2016 Margaret Margaret