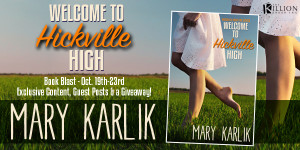 WELCOME TO HICKVILLE HIGH by Mary Karlik is a sweet, sassy, and deeply emotional YA romance about starting over, rediscovering what really matters, and learning how love conquers all – no matter who you are or where you live. You'll be drawn in by the plucky heroine and charming hero in this upside down Cinderella story. When you go from riches to rags, finding what truly matters becomes all the more special.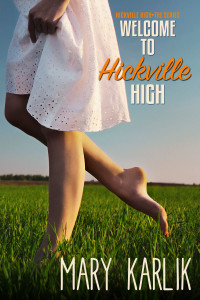 About The Book
Title: Welcome to Hickville High
Author: Mary Karlik
Series: Hickville High
Genre: YA Romance
Release Date: October 15th 2015
Publisher: Indie Published
Print Length: 292 pages
Format: Paperback and Digital
Senior Kelsey Quinn loses it all when her dad relocates the family to Hillside Texas, population Hick. She'll do whatever it takes to return to the good life, even if it's just for one night of dancing at a gala with the boyfriend she left behind. She trades her designer dresses for an apron to work as a dishwasher in a redneck diner. But she doesn't plan on six feet of pure Texan, Austin McCoy entering her life. He teaches her to love the farm life she's been forced into, but will he convince her that it's the farm boy that goes with that life that she really wants?

About The Author
Following a career as a nursing instructor, award-winning author, Mary Karlik earned an MFA in Writing Popular Fiction from Seton Hill University in Pennsylvania. A native Texan, Mary loves horses, dogs, cats, country music, and small town diners. Although she has recently relocated in northern New Mexico, her heart remains in the Lone Star state.
Connect with Mary: Website | Facebook | Twitter | Goodreads | Amazon
Enter To Win
a Rafflecopter giveaway
Buy Your Own Copy
Amazon | Barnes & Noble | Kobo | iBooks
Excerpt
She looked at the striped land below and the farmhouses dotting the landscape. "This is beautiful. But we're going to lose our view. It's almost dark."
"No. That's when the real show begins." He spread the blanket on the grass. "The sky is amazing out here." He sat and stretched out his legs.
A blanket in the middle of nowhere? She told herself nothing was going to happen—she wouldn't let it. Kelsey sat with her knees tucked under and pulled her dress over her thighs. "Don't forget, I have to be home by eleven."
"Not a problem. I'll set my phone alarm." He plinked on his phone and set it on the edge of the blanket.
They sat a few inches apart, close enough to touch, but they didn't. Kelsey's heart raced anyway. She stretched her legs out, crossed her ankles, and leaned back on her elbows. She dropped her head back and took a deep breath. "Smell that?"
He sniffed. "What?"
"It's clean."
He sniffed again. "I smell dirt. What are you talking about?"
She laughed. "Well, I'm not smelling city. It's grass and wildflowers." She looked at him. "And you."
"Me?" He bumped her with his shoulder. "What about you?"
"What about me?"
"You smell like pretty things."
"Pretty things?"
He looked into her eyes. "Yeah, like flowers and stuff."
Kelsey laughed and dropped to her back. "Look. The stars are coming out."
Austin lay back too, and looked up. "The sky is so clear out here it's like you could reach up and touch them. Keep watching."
"For what?"
"That." Austin pointed at a bright streak screaming across the sky. It was gone almost as soon as it appeared.
"Oh my God. I've never seen a shooting star before. How'd you know we'd see one?"
"It's the Perseid meteor shower. It happens every August. We learned about it in sixth grade. I come up here a lot at this time of year."
"Aren't you supposed to make a wish or something?" Kelsey searched the sky for another streak.
"Yeah, I think so. Go ahead, what are you going to wish for?"
"I can't tell you. First rule of wishes—it won't come true if you don't keep it a secret."
He laughed and said, "Close your eyes and make your wish."
She squeezed her eyes shut and wished time would slow just a bit. When she opened them, Austin was propped on an elbow looking at her. "What?"
"Nothing. It's just—I like seeing my world for the first time."
"What?"
"Everything is so new to you, it makes me appreciate what I take for granted."
She reached up and glided her fingers through his hair. She hadn't intended to pull him toward her and she wasn't really sure she had, but he lowered his mouth to hers and stars burst in her head.
They kissed long and slow. When the kiss broke, she turned on her side to face him. Their gazes locked and she felt eagerness mixed with hesitation and fear. Guilt lingered somewhere in the distance. Not now. She wasn't going to deal with that now. She tilted her chin just enough to reach his lips.
As they kissed, he pulled her against him and ran his hand down her spine to just below the small of her back.
She rolled back, bringing him with her. He broke the kiss and supported his weight on his forearms. "Kelsey…"
She stared into his eyes, breathing so hard and fast her head was spinning. She couldn't think.
He kissed her softly and said, "I promise I won't…"
She nodded.
He kissed her again and she wrapped her arms around his waist and pulled him tight. His kisses were harder this time. Then he trailed soft kisses up her neck until he captured her mouth again. His hand drifted to the hem of her dress, but instead of plunging beneath it, he smoothed it over her thigh.
Every second he was with her, she wanted more. More kisses, more touches, more everything.
He pulled away and stroked her hair. "You are so beautiful—we have to stop—or we're not going to be able to stop."
She nodded and barely squeaked, "Yeah."
He rolled on his back and scooted so close their shoulders touched.
She tried to watch for more meteors, but then he turned his head to look at her and she couldn't resist tasting one more kiss. As soon as her lips touched his, she was gone again—kissing and touching him—losing her mind.
And then, his phone alarm sounded.
She broke the kiss. "I have to go."

Copyright secured by Digiprove © 2015 Margaret Margaret