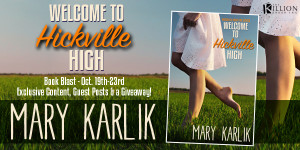 WELCOME TO HICKVILLE HIGH by Mary Karlik is a sweet, sassy, and deeply emotional YA romance about starting over, rediscovering what really matters, and learning how love conquers all – no matter who you are or where you live. You'll be drawn in by the plucky heroine and charming hero in this upside down Cinderella story. When you go from riches to rags, finding what truly matters becomes all the more special.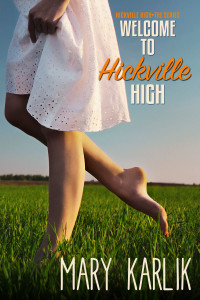 About The Book
Title: Welcome to Hickville High
Author: Mary Karlik
Series: Hickville High
Genre: YA Romance
Release Date: October 15th 2015
Publisher: Indie Published
Print Length: 292 pages
Format: Paperback and Digital
Senior Kelsey Quinn loses it all when her dad relocates the family to Hillside Texas, population Hick. She'll do whatever it takes to return to the good life, even if it's just for one night of dancing at a gala with the boyfriend she left behind. She trades her designer dresses for an apron to work as a dishwasher in a redneck diner. But she doesn't plan on six feet of pure Texan, Austin McCoy entering her life. He teaches her to love the farm life she's been forced into, but will he convince her that it's the farm boy that goes with that life that she really wants?

About The Author
Following a career as a nursing instructor, award-winning author, Mary Karlik earned an MFA in Writing Popular Fiction from Seton Hill University in Pennsylvania. A native Texan, Mary loves horses, dogs, cats, country music, and small town diners. Although she has recently relocated in northern New Mexico, her heart remains in the Lone Star state.
Connect with Mary: Website | Facebook | Twitter | Goodreads | Amazon
Enter To Win
a Rafflecopter giveaway
Buy Your Own Copy
Amazon | Barnes & Noble | Kobo | iBooks
Excerpt

Copyright secured by Digiprove © 2015 Margaret Margaret