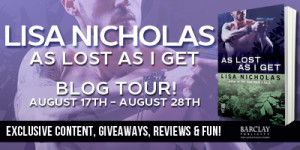 AS LOST AS I GET by Lisa Nicholas is the perfect mix of hot romance and thrilling adventure. A doctor working in rural Colombia is shocked to run into the CIA agent who saved her life two years before. After an impetuous night of passion, she vows to stay away from him. But when her job takes her deeper into the jungle, he may be the only one who can save her from a new threat… If readers liked STRIKING DISTANCE by Pamela Clare they'll be thrilled by this romantic suspense.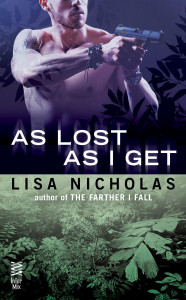 About The Book
From the author of The Farther I Fall comes an action-filled romance in which two lovers discover that the best thing about being lost is having someone find you…
CIA operative Lee Wheeler is glad to be back in the field, even if the assignment is at a backwater station in Colombia—what he considers punishment for crossing lines in an attempt to save his brother's life. Either way, he's ready for action. But he never could have predicted the action he's about to get… Doctor Zoe Rodriguez is in charge of a clinic in a tiny town on the edge of the rain forest. She's still dealing with a traumatic experience she had in Mexico—a trauma she wouldn't have survived if it weren't for Lee. So when they unexpectedly cross paths again, unresolved wounds rise to the surface, and their mutual passion flares to life.  But when a new threat reveals itself, Lee and Zoe's reunion takes on echoes of the past that may ruin their chance for a future.
Find out more at: Amazon | Barnes & Noble | Kobo | iBooks | Books-a-Million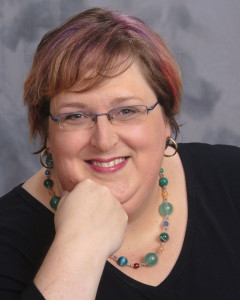 About The Author
Lisa Nicholas is the author of The Farther I Fall. If she's not writing, she's feeding her story addiction any way she can: raiding Netflix, pillaging her local bookstore and library, and (most recently) tearing her way through the comics archive at Marvel.
Connect with Lisa at her website | blog | Facebook | Twitter | Goodreads
Excerpt
As soon as the guards left the room, the man rose to his knees and leaned over, shaking the hood off. He was definitely a tourist. His dark hair was cropped close and gleaming; she couldn't tell if it was dark brown or black. He had the same expensive look as his jeans. His fair skin was clear and clean shaven with just a hint of shadow, and he had the sort of profile she'd only ever seen on a movie or television screen. He wouldn't be here long. Either he had a family with money or he worked for a company that would want him back.
She realized he was giving her the same level of scrutiny, and felt a small rush of fear. They were both bound, so surely he couldn't hurt her, but there was something dangerous in his eyes.
Which is why she didn't expect them to soften the way they did. "Zoe Rodriguez?"
She was too startled to answer, but just nodded.
He glanced toward the locked door and pushed himself to a crouch, the movement oddly graceful. She fought not to flinch when he came over to her. "My name's Lee Wheeler. I'm with the CIA. I'm going to get you out of here."
The sudden lump in her throat caught her by surprise. She tried to keep her face schooled as she studied him. There was no trace of anything but sincerity in his blue eyes. "How do I know you're telling the truth?"
"You don't." He flashed a quick, humorless grin. "I'm not precisely carrying my credentials at the moment." Another careful look over his shoulder. "Trust me until we're out of here, and I promise I'll show you all the proof you need."
Zoe's throat ached and her eyes were stinging. She would not cry in front of a stranger, but the relief was threatening to overwhelm her. "Why?" she said. "I mean, I'm nobody."
"Médecins International doctor, working as an emergency surgeon in a refugee camp in Oaxaca—that doesn't sound like nobody to me." He started to say something else but froze, then threw himself over to where the guards had initially pushed him.
The hood.
Talks With Fists came in with the filthy bucket that served as a toilet, then dropped it, cursing and yelling at Lee to close his eyes. Lee did, but the guard cuffed him across the cheek before pulling the hood over his head again.

Copyright secured by Digiprove © 2015 Margaret Margaret