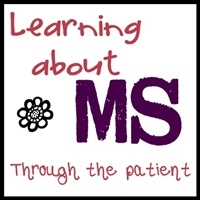 I thought I would so another Multiple Sclerosis Tuesday post this week.  Instead of talking about anything in particular I would just write down some thoughts I have been having about MS and a little update on what is going on with me right now.
Lately I have hated the fact that diseases like MS even exist.  I have gotten to know so many people that have auto-immune diseases and it just piss's me off to know that god lets people suffer like we do.  That being said I know it is in his plan for all of us and that he gave us these things because he knows we can handle them.  I know that it is true but I often wonder if at times we aren't given more than we can handle anyway that isn't the point of this post.
I also have been wishing that people would stop judging those of us who have MS and think we are lazy because we can't really do much.  Now that being said I for the most part can keep up with anyone and if I don't tell you I have MS right now you can't tell.  Even my own family thinks I am lazy because when I get home from work all I want to do it take my bath and go to bed.  People don't take the time to ask or even realize how much energy it takes for me to just make it through my work day.
As for an update on me nothing much has changed since my last update.  I am back to getting my headaches almost every day again but I thinking that is just a part of the MS for me.  Also my Psoriasis is back with a vengeance which totally sucks.  It isn't really the fact that it itch it find I am more embarrassed but it than anything else.  I mean it does hurt if I find myself scratching it but other than that I can ignore it.  I am glad that I wear a jacket all the time at work because it just makes me feel self conscious about myself.
That is all for this post.  If there is anything at MS that you would like to know more about please let me know in the comments below and I will make sure I get it written for you.

Copyright secured by Digiprove © 2014 Margaret Margaret