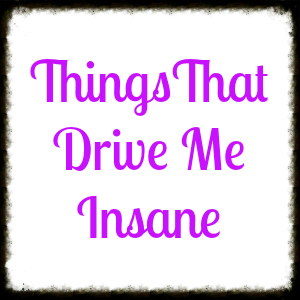 I haven't written one of these posts in a few months and it is time for another one.  The very first one of these posts I wrote was about idiot drivers and this is going to be part 2 because I have seen some real winners lately.  Usually once it warms up here the drivers get better but this year they have gotten 10 times worse.  I am not sure where to even start with this post because there are so many things that are driving me insane lately.
I am going to start with the most shocking one first because well I am still floored by it.  I was on my way to work in the morning and I saw a woman curling her hair with a curling iron as she was driving.    Even as I am writing this I am still in shock and the best part was that I then saw her the next week doing the same thing!
Who in the hell does that while they are driving????  The longer I think about this the more crazy it gets because in order for her to able to do that she had to get a power inverter.  Which shows that she "thought" through this idea.  I told one of the guys I work with about it and he brought up the point what will happen when she drops the hot curling iron because we all know that when you drop something hot while driving it always seems to end up in your crotch.
The next thing that is driving me insane is when people decide to make their own damn lanes while they are driving.  I can't even count how many times I have seen this in the past week alone.  I was looking back that the first post I did about idiot drivers and this was the comment that was left on that post: (this is only part of the comment)
…my personal favorite is when there's heavy traffic and someone doesnt' want to wait anymore on the freeway. So they just pull into the shoulder and drive along at 55 mph or so like it's their own personal lane. Of course, one day they're gonna plow into someone who's stuck there with a flat, or pop their own tire on the nails and junk in that lane… idiots.
I can't wait to watch some idiot who makes their own lane get in a major accident because they think they can do whatever they want.  It would also be great see them plow into a cop car that has someone pulled over.  I get so pissed off when I am stuck in traffic and I watch people making their own lanes and then having to get in front of me.  I want to yell at the and tell them to get in line.  I mean I learned in elementary school get in line and "no butting" in.  I have noticed though that people riding motorcycles are probably the worst when it comes to making their own lane and thinking them can do whatever they want.
I was going to write about one other thing but I think I am going to save that until next time so there will be a part 3 of idiot drivers.  Who knew I could find so many things that people do while driving that would bug the hell out of me.  I guess it comes with driving to and from work for almost 6 years.
What do drivers do that drive you insane???

Copyright secured by Digiprove © 2013 Margaret Margaret